Sandpipers Parade

March 2015
March Madness Dance
Saturday
March 14, 2015
6:45 PM
This Is A Mainstream Dance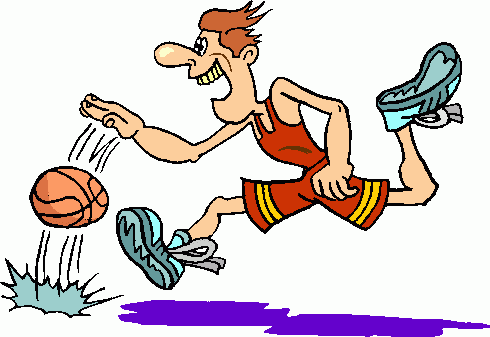 St James Parish Hall
Bill "Tex" Gibson Calling
Regina Aubrey Cueing

PRESIDENTS' MESSAGE
We would like to see as many Sandpipers as possible at the March 14th Madness Mainstream Dance. This dance will be held at the St. James Parish Hall, which is located at 625 S. Nardo in Solana Beach. At this dance, you will have the opportunity to dance with and meet our class students. There will also be class students from the other local square dance clubs.
Our joint Valentine's dance with the Whirlaways square dance club was a success! We had strong support from many dancers and everyone seemed to have a great time. Both clubs were able to make a profit with this dance. Our next joint dance will be in May and the location will be St. James Parish Hall. We would like to thank the 23 Sandpipers that came out on February 8th to support the PSDA dance!!
It was great to see all of you there!!
Looking forward to seeing you in a square soon!
Terry & Joan Thompson
Sandpiper's Presidents
SANDPIPER CLUB OUTFITS
By President Joan Thompson
We would like to have your input about the possibility of a new club outfit.
The fabric for the current club outfit is no longer available. New club outfits were discussed at the January 2015 board meeting and will be discussed again at the March 16, 2015 board meeting.
Some questions that the club would like your thoughts on are:
1) Is there a need for a club outfit?
2) If yes to above, would you be interested in getting an outfit?
SANDPIPERS & WHIRLAWAYS VALENTINE'S DAY DANCE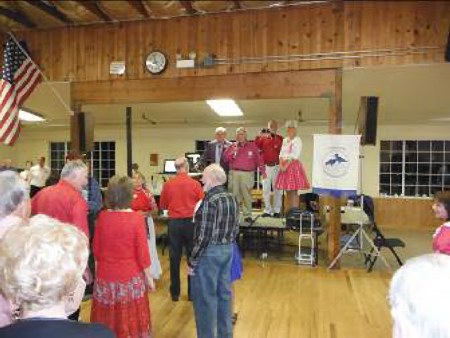 The Sandpipers and Whirlaways put on a combined club Valentine's Day Dance on Friday, February 13, 2015 at the barn that rocked. With 15 squares on the floor the dance hall was filled with dancers. Out of state caller, Jerry Junck called an incredibly smooth and at the same time exciting dance. Rey and Sherry Garza cued to a full floor of round dancers. There was tremendous energy in the room with so many squares on the floor. Most of the dancers couldn't remember the days when it was common to have so many squares at a club dance. This was a very successful venture by the Sandpipers and Whirlaways on the first ever combined club dance.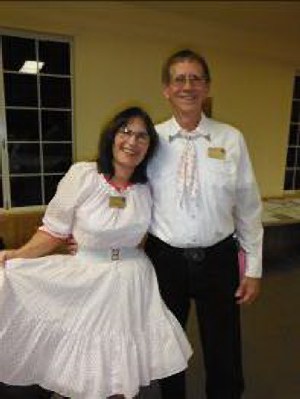 Sandpiper Holley Kinnear said, "That was the BEST dance I have been to and I enjoyed the caller so much. WOW! How incredible to dance six tips and have NO breakdowns. AMAZING. I loved it."
This is the first of four combined club dances and if this dance was any indication, you won't want to miss the next combined dance on Saturday, May 9, 2015 at St James Parish Hall. The theme for this dance is "Flower Power" and the caller is the incredible National caller, Deborah Carroll-Jones and the cuer for this dance will be Regina Aubrey.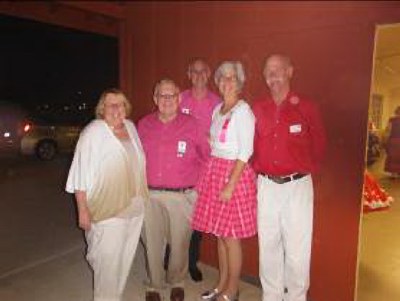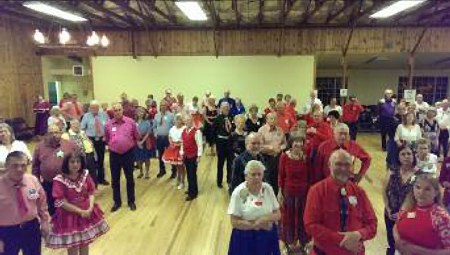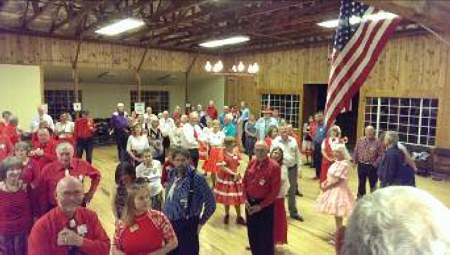 SANDPIPER 1st VICE-PRESIDENTS
Don and Ann Lee
We encourage all club members to come out and dance with our sister clubs in our association. Each club has its own unique features to appreciate and enjoy, friendly people, fun dancing. If we support them, they will support us.
We look forward to squaring up with you and having a blast together at the Bakersfield Fiesta, March 20th thru 22nd. This is definitely one of the best dance festivals, with National callers, great vendors, and some real hot hash dancing.
SANDPIPER CLUB DANCES
March 14 - March Madness @ St. James. With Regina Aubrey cueing starting at 6:45 PM. Our caller will be Bill "Tex" Gipson starting at 7:30 PM.
April 11 - Sandpiper's 42nd Anniversary @ St. James. With Rey Gaza cueing starting at 6:45 PM. Our caller will be Charlie Roberson starting at 7:30 PM.
May 9 - 60's Flower Power @ St. James. This will be a joint dance with the Whirlaways with Regina Aubrey cueing starting at 6:45 PM. Our caller will be Deborah Carroll-Jones starting at 7:30 PM.
SANDPIPER VISITATIONS
March 6 - Ocean Wavers @ 1400 Vale Terrace Dr. Vista, CA. With Regina Aubrey cuering starting at 7:00. The caller will be Ken Ritucci starting at 8 PM.
April 17-19 - 55th Annual California State Square Dance Convention. Multiple cuers and callers. @ Marina Village Conference Center 1936 Quivira Way San Diego, CA.
SANDPIPER SQUARE DANCE CLASS NEWS
By Debby Gaarde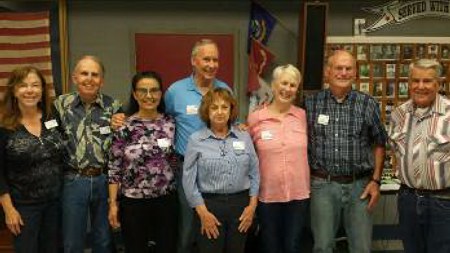 We have eight active students in class. They received their Temporary Permanent Badges and are wearing them proudly. They are picking up the Plus moves quickly!
If you need to refresh your Plus skills, now is the time to come to class.
They are looking forward to attending the Sandpiper's Mainstream Dance. Be sure to introduce yourself and get them in a square with you.
Thanks, Jim, Sandy and Deb
SANDPIPER FEBRUARY 2015 POTLUCK
By Larry Anderson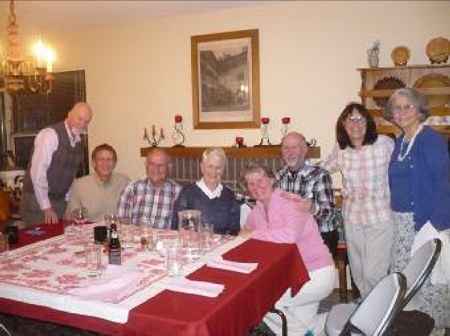 We had a great time at the "Heart Healthy" themed February Social Supper, with three student couples joining 10 Sandpipers members for an evening of good food and fellowship. As usual, the food dishes were delicious and surprising in their variety, ranging from couscous to creative vegetable dishes, salads and other tasty delights. The evening was capped off by two almond cakes baked by Stevie Nix -- both were devoured. The conversation was at a low roar all night and everyone had a great time getting to know each other a little better outside the dance setting. As usual, Christine Kiffmann provided the perfect setting in her home.
The March 2015 potluck will be at Christine Kiffmann's house on Thursday, March 19, 2015 at 6:30 PM. The theme will be Irish food for St. Patrick's Day.
SANDPIPER BOARD MEETING MARCH 16, 2015
Our next meeting will be held on at 7 PM, on Monday, March 16, 2015 at Chuck and Joan Ades's home, 1041 Passifora Pl, Leucadia. Please call Chuck and Joan at 760-753-6822 if you plan to attend or need directions. All Sandpipers are encouraged to attend the board meeting.
PSDA REPORT
By Pete Ziegler
Other Clubs:
Whirlaways: Began new classes with 49 students attending but at second class only 20 showed up. For the First class 25 students were referred by "friends" but they were not identified. The next 18 students were evenly referred by the Recreation Center, Meet Up and Newspaper ad.
Wranglers : Classes have more students than angels. The number of students varies between 19-27. Angels from other clubs would be greatly appreciated. Classes are on Thursday evening, starting at 7:00 PM at the Las Penasquitos Elementary School.;
PSDA DANCES:
The PSDA January 31st Anniversary dance had 194 dancers in attendance.
Second Sunday PSDA student dance locations for this year will be divided between The American Legion in Escondido and the Vista Town Center. The March, August and September dances will be held at the Vista Town Center and the rest at the American Legion Hall.
California State Convention:
The State convention this year will be held in San Diego April 17-19. Tickets are already available on line at www.2015conv.com. There are separate registration forms, one for Square dancers and one for Round dancers. San Diego dancers are strongly urged to participate in this convention which will help provide needed financial support. When signing up be sure to indicate your PSDA association in the application form.
Insurance: Insurance for the Sandpipers club has been delayed but will be forthcoming shortly.
PSDA STUDENT LEVEL DANCE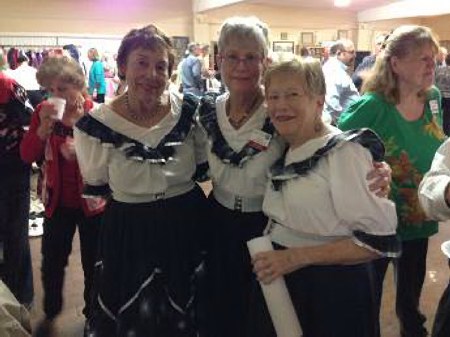 Three generations of the Bramblett family.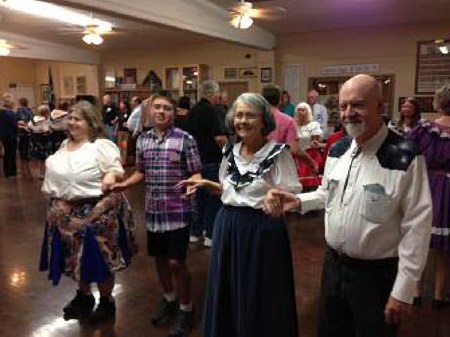 Sandpipers Planners For March & April 2015
Sandpipers Planner March 2015

Sunday

Monday

Tuesday

Wednesday

Thursday

Friday

Saturday

1

2

3

4

5

6

7

Square Dance Class La Colonia 7 to 9 PM




Betty Lou Sanderson






Visitation

Ocean Wavers

Shamrock Shuffle, Ritucci/Aubrey, Azalea Rm. 7PM




Richard Anderson







8

9

10

11

12

13

14





Joan Thompson







Square Dance Class La Colonia 7 to 9 PM











Lucille Brown












Sandpiper

March Madness Mainstream Dance, 6:45 PM rounds, 7 PM squares, St James




15

16

17

18

19

20

21




Board Mtg 7 PM@ the Ades'








Square Dance Class La Colonia 7 to 9 PM







Sandpiper Potluck, Irish Food, Kiffmann's@ 6:30 PM







Renny & John Dowling










22

23

24

25

26

27

28






Square Dance Class La Colonia 7 to 9 PM







29

30

31

Square Dance Class La Colonia 7 to 9 PM
















Sandpipers Planner April 2015

Sunday

Monday

Tuesday

Wednesday

Thursday

Friday

Saturday

1

2

3

4

Dot Omens


















5

6

7

8

9

10

11










Square Dance Class La Colonia 7 to 9 PM
























Sandpiper

42nd Anniv. Dance Robertson/Garza

St James









12

13

14

15

16

17

18











Square Dance Class La Colonia 7 to 9 PM




Bill Fuess

Bill Ryan







Sandpiper Potluck, 6:30




Elaine Lonnegren




Visitation

California State Convention, San Diego, Apr 17 to 19.












19

20

21

22

23

24

25

Yvonne Ryan











Square Dance Class La Colonia 7 to 9 PM







26

27

28

29

30

Square Dance Class La Colonia 7 to 9 PM