Sandpipers Parade

February 2015
Happy Valentine's Dance


Friday, February 13, 2015
The Barn
1952 Sycamore Drive
San Marcos, CA 92069
6:45PM
Caller: Jerry Junck
Cuer: Rey Garza

PRESIDENTS' MESSAGE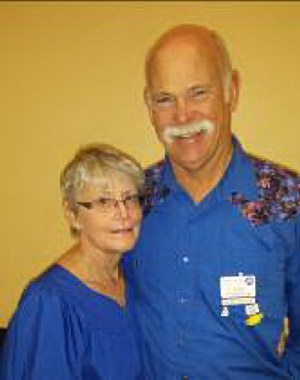 The Sandpipers will be hosting the February 8th PSDA 2nd Sunday dance. This dance will be held at the American Legion Hall, which is located at: 230 E. Park Ave. Escondido, CA. The caIler will be Mike Haworth. I would like to see as many of you as possible to help support the new Class level dancers!
Happy Valentine's Day!
I invite you to join the Whirlaway's and Sandpiper's at our joint dance on February 13th. The location is the Barn, which is located at: 1952 Sycamore Dr. San Marcos, CA. The Rounds will start at 7 PM with Rey Garza Cueing. The Squares will start at 8 PM with Jerry Junck Calling. There will be Advanced Tips at the break and at the end of the dance.
Looking ahead I would like to see a strong Sandpiper support at the 55th Annual California State Square Dance Convention, to be held April 17th-19th, 2015 at the Marina Village Conference Center, which is located at: 1936 Quivira Way San Diego, CA. 92109.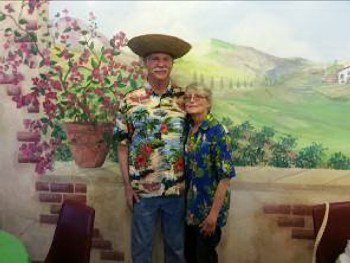 Terry and Joan Thompson
SANDPIPER JANUARY 2015 ITALIAN FOOD POTLUCK
By Barbara Fouts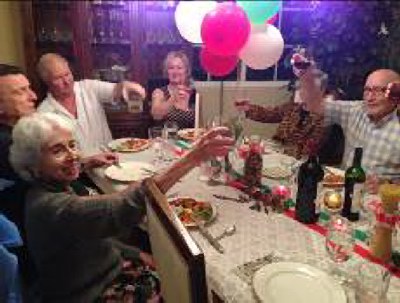 We had a great night! Twenty Sandpipers, great food, drink, fellowship. Waiting for everyone to arrive, people visited and kept warm around the fire pit. It was a fun time.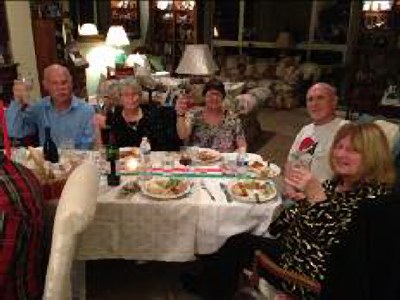 SANDPIPERS BIKERS AND BABES DANCE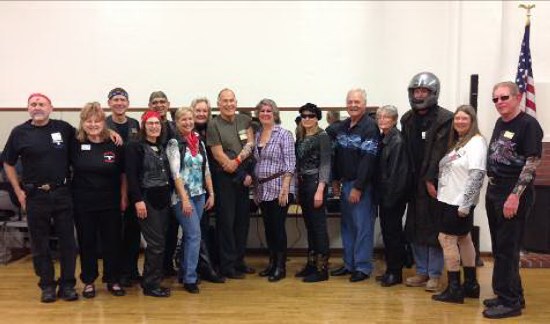 What a night! Caller Buddy Weaver called an exciting dance in the crowded Harding Center Recreation Hall in Carlsbad on Saturday night, January 10, 2015. With close to ten squares on the floor most of the night, Buddy had to "checkerboard" the squares to allow more space to be available. Many of the square dancers showed up in the biker and babes theme attire, complete with leathers and tattoo sleeves. The only thing missing was the motorcycle that had been used as the center piece of previous such themed dances. Past-presidents Larry and Nancy Anderson provided the welcoming hugs. Rey and Sherry Garza were dressed for the occasion with Rey almost unrecognizable in his leathers and bandana. There were lots of round dancers on the floor as round dancing seems to be becoming more popular with some of the newer square dancers.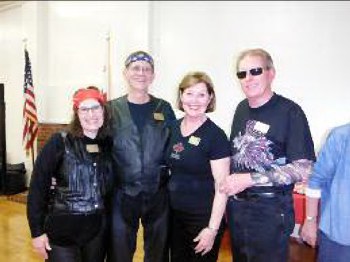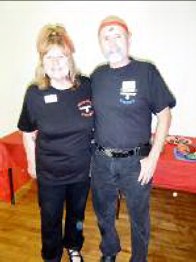 Terry and Joan Thompson did a great job as our new presidents, making announcements and mingling with our guests. Thanks to Chuck and Joan Ades and of course, Carol Burks for handling the refreshment duties. Although the evening was on the cool side, the patio doors were open, allowing dancers to cool off outside.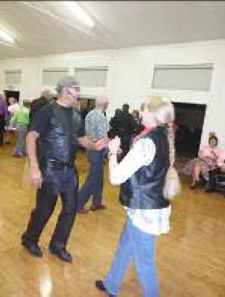 SQUARE DANCE CLASS NEWS
By Don and Ann Lee, Class Managers
We would like to encourage those of you that have not come out to angel our class on Tuesdays or on the second Sunday dances to please do so these last 4 months of class. Students, both men and women are often confused when women angels dance the men's part because of a lack of men angels. Our goal is to graduate skilled dancers who are motivated to attend dances and become active Sandpipers. The more exposure they have now to more club members who they will know and relate to before graduation, the stronger our club will become.
When inexperienced graduates begin dancing at club level, they want to square up with familiar friendly strong dancers. Becoming well acquainted with all of us now will make a difference to them in developing strong connections with Sandpipers, and their confidence at dances. Angeling is the job of every club member, as it is a determining factor in promoting club growth and strength. Also, our core group of faithful angels could use some support.
CLASSY NEWS
By Debby Gaarde, Class Manager
We have eight enthusiastic students who are working hard to become dancers. This group is very active and have attended several student dances and many Club potlucks. Please support them at Tuesday night classes and at the Student Dances. We have one on Jan. 30th and another Feb. 8th. There is at least one dance at the Student level every month. (check the calendar attached)
Also, to prepare them for their future dances, we will be having a Recycle Sale on Feb. 17th. If you want me to pick up clothes from you for the sale, please call Deb, or you can bring them to class early on the 17th. Thank you to all the Angels and Mentors who show up every week in support of the students. We could not do it without you!
SANDPIPER FEBRUARY 2015 POTLUCK
By Christine Kiffmann
"Heart Healthy - Food You Love" is the theme for the February potluck. It will be at held on Thursday February 19th at Christine's house, 3632 Lorimer Lane, Encinitas 92094. Since I will be traveling prior to the potluck PLEASE CALL my CELL PHONE if you would like to attend. 310-710-7530. (Not my land line)
CLUB DANCES
By Terry Thompson
February 13 - Valentine's Theme- Joint Dance with the Whirlaways. Rounds w Rey Garza at 7:00 PM. Squares w Jerry Junck Calling from 8-10:15 PM. The location is the Barn @ 1952 Sycamore Dr. San Marcos, CA.
March 14 - March Madness - Mainstream Dance. Rounds w Regina Aubrey at 6:45 PM. Squares with Bill "Tex" Gipson Calling from 7:30 - 9:45. The location is St. James Parish Hall @ 625 S. Nardo Solana Beach, CA.
VISITATIONS
By Terry Thompson
February 8 - PSDA 2nd Sunday Class Level Dance - Sandpiper's Host. Squares w Mike Haworth from 6:30 - 8:45PM. The location is the American Legion Hall @ 230 E. Park Escondido, CA.
February 21 - Temecula Grape Stompers - Sweetheart Ball. Rounds at 6:30 w Rey Garza. Squares at 7:30 w Mike Sikorsky Calling. The location is the Temecula Community Recreation Center @ 30875 Rancho Vista Road Temecula, CA. 92592.
April 17 - 19th - 55th Annual California State Square Dance Convention. Multiple Cuers and Callers. Located at the Marina Village Conference Center @ 1936 Quivira Way San Diego, CA.
PSDA REPORT FOR JANUARY 2015
By Pete Ziegler, PSDA Representative
Other Clubs:
At their club dance classes, the Wirlaways have 26 students and the Wranglers have 20 students.
The Wirlaways dance on January 30 will be a Mainstream only dance
PSDA Dances:
The PSDA January 31st Anniversary dance theme will be "Traveling Through California." It will feature festivals held in different sections of California. A silent auction will be held and may include gifts from AAA and airline mileage. Dancers are strongly urged to attend this dance and show support for the PSDA.
Second Sunday PSDA student dance locations for this year is uncertain due to scheduling problems with the American Legion Hall. Alternative facilities being considered are the Vista Town Center and the San Marcos Senior Center.
The Sandpipers Dance Club will host the February second Sunday student level dance to be held at the American Legion Hall in Escondido.
California State Convention:
The State convention this year will be held in San Diego April 17-19. Tickets are already available on line at www.2015conv.com. San Diego dancers are strongly urged to participate in this convention which will help provide needed financial support. When signing up be sure to indicate your PSDA association in the application form.
Promotions:
PSDA funds for special events, such as supporting club advertising are exhausted. There is a need for activities to support this program. Ideas and suggestions from club members would be appreciated and should be directed to the PSDA Promotions Director.
The Square Dance Community is encouraged to utilize a new Square Dancing Logo and Slogan. The slogan is "Live Lively-Square Dance". Clubs are encouraged to use the new logo on all their flyers and advertising. This logo can be downloaded from www.arts-dance.org/logos.htm.
Scheduling of Club Dances:
Any changes to Club dance schedules need to be reported to the PSDA Calendar Coordinator ASAP as well as to the PSDA Webmaster.
PALOSTAR
There is still the opportunity for any club member to fill the position of Advertising Director.
CATHERINE AND JIM BOWEN CELEBRATE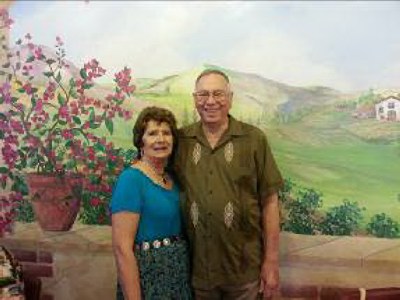 Long time Sandpipers Catherine and Jim Bowen celebrated two milestones with family and friends on Sunday, January 25, 2015. Unbelievably, Catherine celebrated her 80th birthday and Jim and Catherine celebrated their 30th Wedding Anniversary. Many Sandpipers attended the "Margaritaville" themed dance with live music and vocal entertainment. The dance floor was suddenly filled with dancers as the familiar Jimmy Buffet music such as "Cheeseburger In Paradise" was performed on stage. The gracious hosts provided plenty of Mexican food, and of course, margaritas.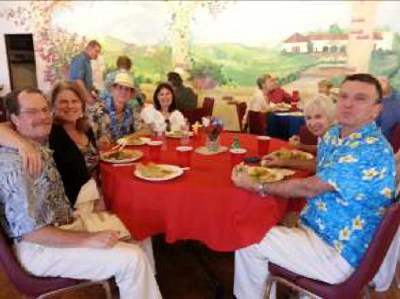 Sandpipers Planner February 2015

Sunday

Monday

Tuesday

Wednesday

Thursday

Friday

Saturday

1

2

3

4

5

6

7

Square Dance Class La Colonia 7 to 9 PM











Nancy Anderson

8

9

10

11

12

13

14

Visitation

PSDA Student Level Dance, 6:30 PM, Randall, Park Ave Senior Ctr, Escondido Sandpipers Host





Square Dance Class La Colonia 7 to 9 PM
















Sandpiper/

Whirlaways Valentines Day Dance, 6:45 PM Rounds, Garza, Squares 7:30PM Junk, The Barn








Elaine & Bob Lonnegren




15

16

17

18

19

20

21

Andee Travers





Square Dance Class La Colonia 7 to 9 PM







"Heart Healthy" Potluck at Kiffmann's 6:30 PM












Visitation

Grapestompers Sweetheart Ball, 6:30 Rounds, Garza, 7:30 Squares,Sikorsky





22

23

24

25

26

27

28






Square Dance Class La Colonia 7 to 9 PM





29

30

31

Square Dance Class La Colonia 7 to 9 PM