Sandpipers Parade


August 2015

HAWAIIAN NIGHT DANCE
SATURDAY, AUGUST 8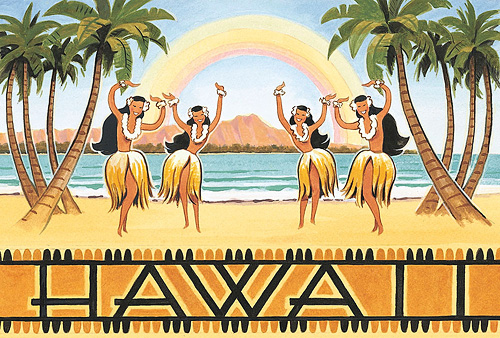 St James Parish Hall
Pre-Rounds 6:45 PM
Squares 7:30 PM
Mike Kellogg Calling
&
Rey Garza Cueing

PRESIDENTS' MESSAGE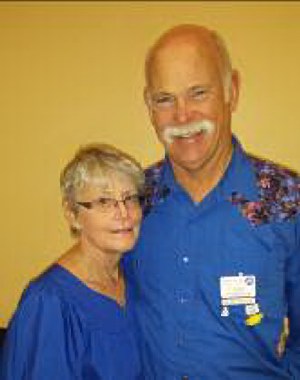 Hello Sandpiper's,
We have several activities coming up this month.
Our Hawaiian Night Dance is on August 8th. This will be a joint dance with the Whirlaways. We will have Mike Kellogg calling and Rey Garza cueing.
The Sandpiper Pot Luck will be on August 20th. This will be held at our home, 12202 Colony Dr. Poway, CA 92064, 858/748-4219.
For September we have the following:
On September 5th the Padres Square Dance day at Petco Park. This event is open to everyone and the will be a square dance before the 5:40 PM game vs. the Dodgers. The cost is $20.00pp (this includes the game). I am taking signup, with the cutoff August 15th.
New Square Dance Class Starting September 8th! Please help to spread the word! The first week is FREE!
Our County and Western Dance will be on September 12th. We will have Romney Tannehill calling and Rey Garza cueing.
Joan and I are off to the East Coast, but will be back for our dance on August 8th!
Cheers!
Joan and Terry Thompson
SANDPIPERS & WHIRLAWAYS HAWAIIAN NIGHT DANCE
You won't want to miss our dance this month with the Whirlaways. On Saturday, August 8, 2015 this joint dance with the Whirlaways will feature caller Mike Kellogg and cuer Rey Garza. Pre-rounds begin at 6:45 PM at St James Parish Hall and there will be a special "Introduction to Advanced Dancing Tip" for those of you who want to experience the fun of Advanced Dancing. This tip will be for all Plus dancers.
SANDPIPERS INDEPENDENCE DAY DANCE & ICE CREAM SOCIAL
It was a pleasantly warm night on Saturday, July 11, 2015 when the Sandpipers held their dance at the St James Parish Hall.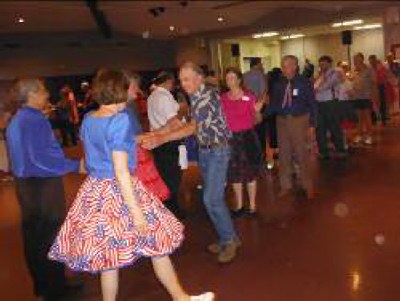 On hand was caller Scot Byars and his cuer wife, Erin. Seven to eight squares filled the floor most of the night. Scot began with a singing call that featured his wonderful voice and got everyone in a party mood.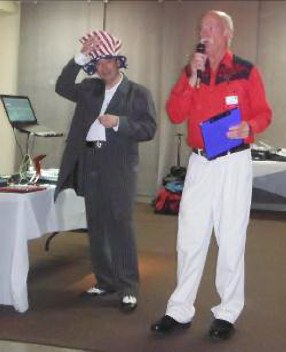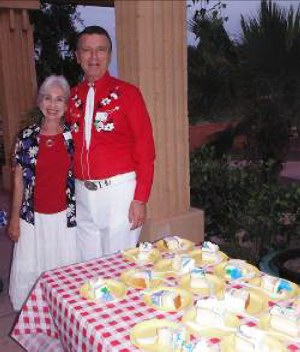 Sandy and Mike Harris provided the welcoming hugs and Catherine and Jim Bowen, Betsy Bramblett and Doris Fitzpatrick served the ice cream with all the toppings and white cake.
Many dancers do not know that Scot has a rare eye disease and is legally blind. That does not stop him from calling a great dance and coming down off the stage to mingle with the dancers. Scot and Erin are favorites with the Sandpipers and usually call our Rock & Roll 50's Dance where Scot wears his Elvis costumes.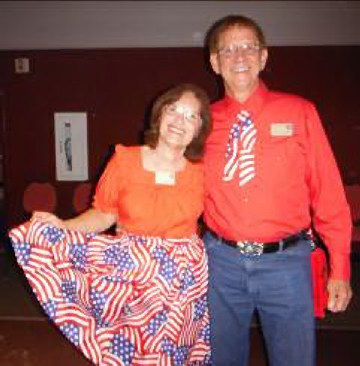 SANDPIPERS POTLUCK ON THE PATIO
By Christine Kiffmann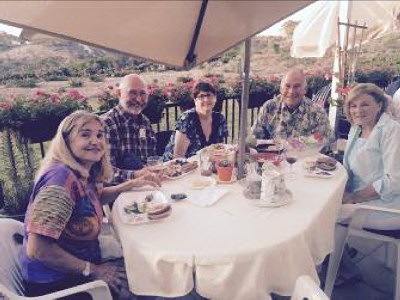 Twenty lucky Sandpipers enjoyed having grilled hamburgers and socializing on a lovely evening until well after dark on Christine's patio. There were so many side dishes, in addition to the delicious burgers that it was difficult to taste them all. Dessert was of course to die for because it was made by none other than Stevie Hall, who has become the designated bringer of dessert because they are so exceptionally good.
Join us next month on Joan and Terry Thompson's patio for another evening of chatting and eating. You won't want to miss it
The theme for the Thursday, August 20, 2015 potluck is SALADS and it will be held at Terry and Joan Thompson's home at 12202 Colony Dr, Poway, 92064. Hope to see you there,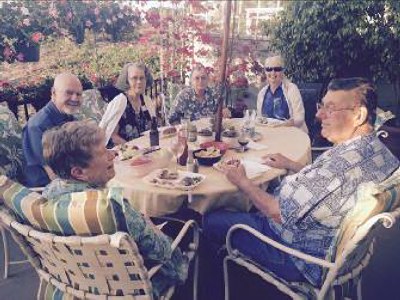 SANDPIPER GAME NIGHT AT THE DORNEY'S
By Karen and Bob Dorney
July Game Night was a success! We had 16 Sandpipers playing Canasta and sharing yummy snacks.
We had so much fun we hated to see our buddies leave.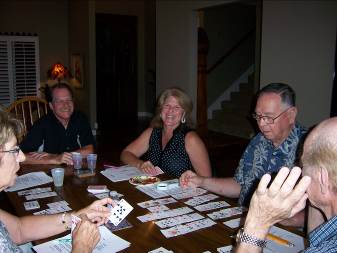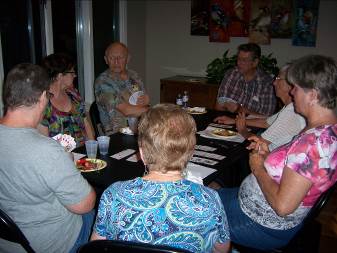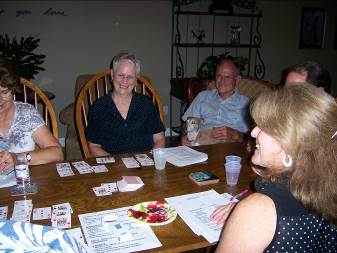 NATIONAL SQUARE DANCE CONVENTION 2015, SPRINGFIELD, MASS.
By Adrienne Cooper, Immediate Past Co-President
For those who did not have the opportunity to join us at the nationals here are some highlights:
4003 ATTENDED
HAWAII 9
CA 234
OR 15
WASH 91
PUERTO RICO 1
APO 1
MEXICO 1
SWITZERLAND 1
DENMARK 14
AUSTRALIA 16
CANADA 144
GERMANY 25
JAPAN 7
SWEDEN 3
FRANCE 2
THE NETHERLANDS 4
PHILLIPINES 1
MASSACHUSETTS 425
All states were represented except for North Dakota.
Those attending from the Sandpipers were Adrienne Cooper and Christine Kiffmann.
There were plenty of opportunities to square dance at all levels-Mainstream,,Plus, ,Advanced 1, Advanced 2, Challenge 1, Challenge 2-C3A, Youth Hall, Hex, DBD. In addition we had the opportunity to Contra dance and square dance to a live band called the Ghost Riders. Line dancing, and rounds were available through phase VI. Other activities included were the Showcase of Ideas, Ways and Means, Square Dance Competition, Vendors, Fashion Show, Speakers, Education classes, live entertainment, and tours.
The next 65th National Convention is set for Des Moines, Iowa June 22-25th, 2016. In 2017, Cincinnati , Ohio will host. The 68th National Convention was awarded to Atlanta, Georgia. Hope you will join us in the future. It's a great opportunity to meet dancers from around the world.
PSDA REPORT JULY 12, 2015 MEETING
By Pete Ziegler, PSDA Rep
Other Clubs:
Double SDs will introduce advanced dance demonstrations and instructions at other club dances including the next Sandpiper dance.
Ocean Wavers may be changing their dance location due to the doubling of the rental rate at Brengle Terrace.
Promenaders have installed a new wood floor at their dance location.
Wranglers has increased the cost of their dances one dollar to eight dollars. Their workshops continue every other Sunday during the Summer and having a good turnout including recent graduates from the Sandpipers. An article about this club and their dances was published in the Poway News Chieftain (The Pomerado Newspaper Group).
Taste of Dance: This showcase to promote/demonstrate Square, Round, Line and Clogging dance is being held on August 20th and 27th in Poway and is being coordinated with the Wranglers and Sandpipers. Other demonstrations in other parts of the county are being planned. This first event will be advertised in the Poway News Chieftain and the use of local lawn signs also will advertise the event.
PSDA Dances: The August Student level dance will have a clothing sale. The 5th Saturday dance will be held at the Barn on August 29.
Insurance: Clubs need to include every possible dance location in their list provided to the PSDA Insurance Director in order to assure that they will all be covered by insurance whether or not they will actually be used. Locations cannot be added at a later date and will not be covered for insurance.
Del Mar Fair: 179 dancers participated in the square dance demonstrations this year.
State Council Membership Dues: An increase of $2.00 per member was approved by the Board. An increase was requested due to increased costs and low turnout at State Conventions. PSDA cost will increase from $460 to $600 a year. This increase still has to be approved by other affiliates before it is finalized.
Sandpipers Planner August 2015

Sunday

Monday

Tuesday

Wednesday

Thursday

Friday

Saturday

1






2

3

4

5

6

7

8





Barbara Miller






















Sandpiper/

Whirlaways Hawaiian Night Dance, 6:45 PM Kellogg/Garza

St James




Karen Dorney

Judy Thum

9

10

11

12

13

14

15

PSDA Student Level Dance,6:30 PM, Clairmont,

Vista Community Service Ctr




Joan & Terry Thompson


















16

17

18

19

20

21

22

Sandpiper Board Mtg 7 PM, Location TBA




George Bramblett




Sandpiper Potluck 6:30 PM@the Thompson's









Jim Levin






23

24

25

26

27

28

29






Bill & Yvonne Ryan


















PSDA Super Weekend

Whilaways with Pat Carnathan Karen & Bob Dorney

PSDA 5th Sat w Jay Henderson@ the Barn









30

31





PSDA Beach Day Oceanside Pier




Sandpipers Planner September 2015

Sunday

Monday

Tuesday

Wednesday

Thursday

Friday

Saturday

1

2

3

4

5






Penny Davis







6

7

8

9

10

11

12





New Square Dance Class La Colonia 7 to 9 PM














Betsy & George Bramblett

Holley Kinnear




Sandpiper Country & Western Dance, St James, 6:45 PM Tannehill/Garza





13

14

15

16

17

18

19

PSDA Student Level Dance DARK







Beginning Square Dance Class La Colonia 7 to 9 PM

















Karion Fitzpatrick

Carol Burks





20

21

22

23

24

25

26






Beginning Square Dance Class La Colonia 7 to 9 PM






27

28

29

30

Beginning Square Dance Class La Colonia 7 to 9 PM