Sandpipers Parade

December 2015
Saturday, December 12, 2015
HOLIDAY COOKIES DANCE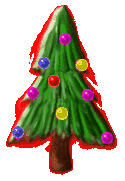 Preceded By Member's General Meeting
Rod Shuping Calling
and
Rey Garza Cueing

Thursday, December 31, 2015
NEW YEAR'S EVE DANCE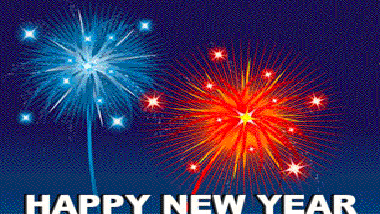 Romney Tannehill Calling
and
Regina Aubrey Cueing

PRESIDENTS' MESSAGE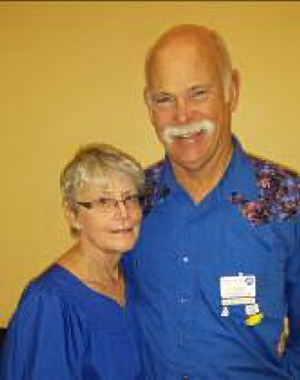 Welcome to December!
This is the month of sharing with family and friends. Speaking of sharing, we will be needing people to help with setup, food, and cleanup for the New Year's Dance. If you can help out, please drop me an Email. I would like to see some more Sandpipers sign up for our party and dance!
I would like to thank the Jackson's on behalf of the Sandpipers for their many years providing our newsletter! I would also like to thank Steve Schock on behalf of the Sandpiper's for his many years providing our dance fliers!
If anyone is interested in taking over these functions please contact me.
Prior to the start of the December 12th dance, we will have a potluck which will be followed by a General Meeting. At this meeting, we will be voting on the proposed budget for 2016. We would like to have as many Sandpipers as possible attend the meeting. We will also be selecting the officers for the coming year. Hope to see you in a square.
Terry and Joan Thompson
SANPIPER GENERAL MEETING
By Larry Anderson
Our Sandpiper General Meeting will begin at 5:30 PM on Saturday, December 12, prior to our Holiday Cookies dance. This is one of only two times a year all club members gather together outside of squares, and one of the few times your hard working Board of Directors members get to share with the members they serve. This is when you will elect your new Board, and we hope everyone will be there to help welcome them to their new duties.
The General Meeting usually ends by 6 PM., followed by a potluck dinner. Sandpiper potlucks are always fabulous; and based on the wonderful Social Suppers we have had so far this year, this one should be great. The theme of this potluck is "International Cuisine". Please come even if you don't have time to fix or pick up something to share; there is always a ton of food!
And, if you haven't already sent your reservation in, you might want to RSVP for the New Year's Eve party (if it isn't sold out by the time you read this.) It is absolutely the most fun dance of the year and a fabulous way to bring in the New Year!
SANDPIPERS THANKSGIVING DANCE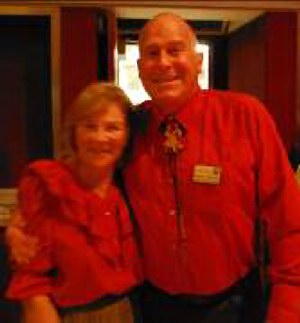 The Sandpipers had five squares on the floor most of the night, in spite of the fact that many Sandpipers were attending the RIVCO Square Dance Festival in Indio, CA. Past President Mike Harris welcomed the dancers and made the introductions. David Mee called a fun dance and Dawn Mee cued the rounds. Renate Hausmann and Marilyn Stalker provided the welcoming hugs and Renate also had Hospitality duties in the kitchen along with helpers Dot and Gilbert Omens, Bill and Debby Gaarde, Betty Lou Sanderson, Joy and Bruce Bainbridge and Joan Ades. Caller Tim Pepper and cuer Bev Oren were also in attendance. Tim even had a duet with David. Everyone attending had a great time.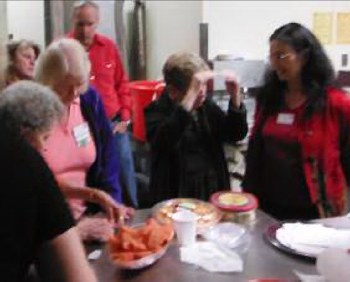 GAME NIGHT WILL BE ON THURSDAY, DECEMBER 3, 2015
By Karen Dorney
Game night will be at the home of Karen and Bob Dorney, 1278 Santa Luisa Dr, Solana Beach, CA, at 7 PM. Please RSVP to Karen and Bob at 858-481-8411 or
2dorney@roadrunner.com
.
SANDPIPERS AT THE VILLAGE SQUARES HALLOWEEN DANCE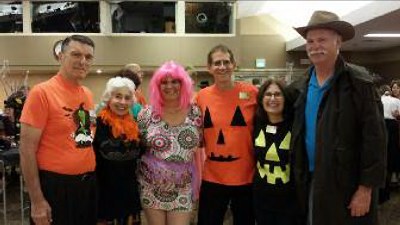 SANDPIPER DECEMBER 2015 DANCES
Dec 12th: Pot luck, general meeting. Rod Shuping calling and Rey Garza cueing.
Dec 31st: New Year's Eve Party and Dance. Romney Tannehill calling and Regina Aubrey cueing.
THE SANDPIPER NOMINATING COMMITTEE REPORT
The Nominating Committee is pleased to present the following list of nominees for club Officers and Committee Chairs for 2016. This slate will be presented at the General Meeting prior to our dance on December 12 for consideration by the members in attendance; nominations (or volunteers) from the floor will be accepted at that time.
Three positions were still open at press time: 2nd Vice President (Class Managers); Publicity Chair (flyers & Palostar ads); and Newsletter Editor. We welcome anyone who is interested and willing to step forward to volunteer for any of those positions.
Nominating Committee:
Larry Anderson, chair
Jim Bowen
Terry Thompson
Proposed 2016 Slate of Officers and Committee Chairs
ELECTED POSITIONS
President(s) Terry & Joan Thompson
First Vice President Christine Kiffmann
Second Vice President(s) vacant
Secretary Ariana Bramblett
Treasurer Barbara Fouts
APPOINTED OFFICERS
Auditor Bob Lonnegren
Parliamentarian Marlyn Milberger
APPOINTED COMMITTEE CHAIRS
Class Support Bill Fuess
Hospitality Carol Burks, Chuck & Joan Ades, Christine Kiffmann
Membership Jim & Sandy Levin
Newsletter vacant
PSDA Representative Pete Ziegler
Publicity vacant
Sunshine Janet Judge
Visitations ???
Website Bob Dorney
IMMEDIATE PAST PRESIDENTS
Larry & Nancy Anderson, Adrienne Cooper
SANDPIPER THANKSGIVING POTLUCK AND BUDGET MEETING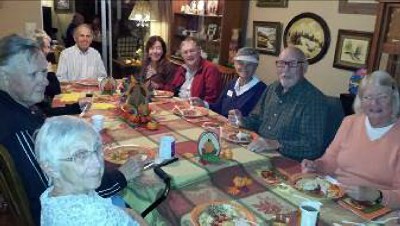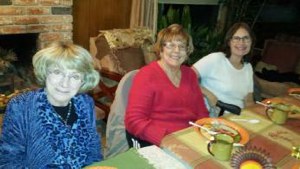 FOURTEEN SANDPIPERS ATTENDED THE WRANGLER'S HUSTLER RUSTLER DANCE
Larry Anderson in "jail" at the Hustler Rustler Dance.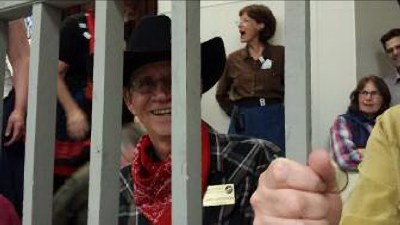 2015 RIVCO SQUARE DANCE FESTIVAL, INDIO, CA
By Larry Anderson
There was a huge crowd at the festival.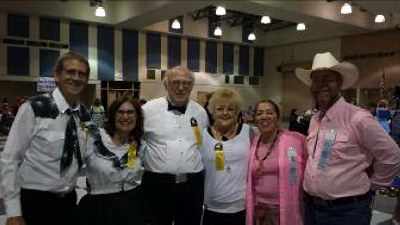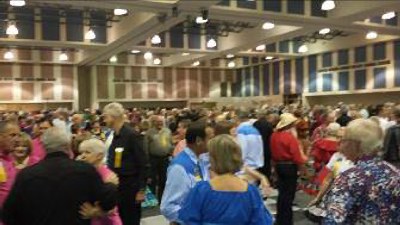 INDIO FESTIVAL"BRING YOUR OWN LUNCH" HOSTED BY THE ANDERSON'S & DOWLINGS
Had folks from other PSDA clubs & the Ramblin' Rogues join us at the "Bring Your Own Lunch" get together on Saturday hosted by the Dowling and The Andersons.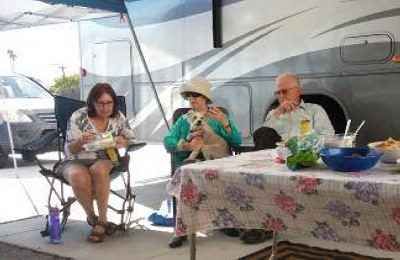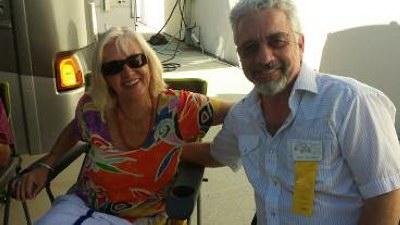 Sandpipers Planner December 2015

Sunday

Monday

Tuesday

Wednesday

Thursday

Friday

Saturday

1

2

3

4

5

Square Dance Class La Colonia 7 to 9 PM







Game Nite @ the Dorney's, 7 PM




Barbara & Loren Miller




Bill Gaarde







Don Lee







6

7

8

9

10

11

12




Sandy & Mike Harris






Square Dance Class La Colonia 7 to 9 PM



















Sandpiper Holiday Cookies Dance, St James Shuping/Garza

6:45 PM

General Meeting before dance.




13

14

15

16

17

18

19




Square Dance Class La Colonia 7 to 9 PM







Loren Miller



















Patti & Fred Jackson





20

21

22

23

24

25

26

Renny Dowling








Square Dance Class La Colonia 7 to 9 PM







Christine Kiffmann

Steve Schock




27

28

29

30

31

Catherine & Jim Bowen








Square Dance Class La Colonia 7 to 9 PM












Sandpiper

NYE Dance, St James, 8 PM

Tannehill/

Aubrey





Sandpipers Planner January 2016

Sunday

Monday

Tuesday

Wednesday

Thursday

Friday

Saturday

1

2






Catherine Bowen







3

4

5

6

7

8

9





Renate Hausmann







Square Dance Class La Colonia 7 to 9 PM









Sandy Harris









Doris Garrison







Cay Hodge







Sandpiper Bikers & Babes Dance, 6:45 PM, St James Weaver?Garza





10

11

12

13

14

15

16




Kathy Knight







Square Dance Class La Colonia 7 to 9 PM

Jennifer & Steve Schock
















17

18

19

20

21

22

23

Julie Bubar

Debby Gaarde

Jennifer Schock






Square Dance Class La Colonia 7 to 9 PM




Stevie Hall




24

25

26

27

28

29

30

31




John Dowling

Square Dance Class La Colonia 7 to 9 PM