Sandpipers Parade
January 2015
.
Bikers & Babes Dance
Buddy Weaver Calling
Rey Garza Cueing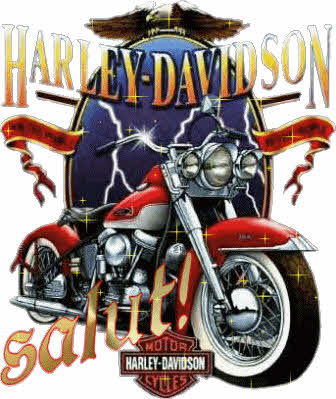 Harding Recreation Hall
3096 Harding Street
Carlsbad, CA
6:45 PM, Saturday
January 10, 2015

PRESIDENTS' MESSAGE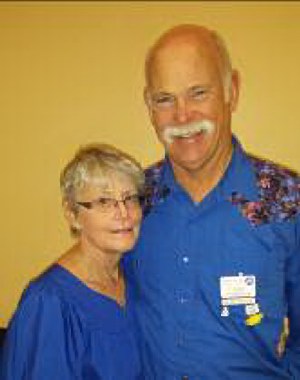 Welcome to 2015!
I would like to wish you all the Best for the coming Year on behalf of my new Board and Ourselves!
Just a few days ago the Sandpipers had a Great New Year's Eve Dance with five callers and a live band.
I want to thank all that took part in planning, preparing, decorating, and hosting this Great Dance! If you were there, you will agree that our hall really stood out! With 154 dancers in attendance, the floor was full, and the energy was high. If you were unable to attend, there are pictures in this newsletter showing you what it looked like.
Our next dance on January 10th has the Bikers and Babes Theme. We will have Rey Garza cueing the rounds and Buddy Weaver calling the squares. Please note that this dance is at the Harding Center (3096 Harding St. Carlsbad, CA), and not at St. James Church.
The Sandpiper Board will be having their meeting on January 19th at Kathy Knight's (2419 Newport Ave. Cardiff, CA). All our members are welcome to attend. However if you plan to do so, please RSVP so that we can have room.
The Sandpipers will be hosting the second Sunday PSDA Dance on Feb 8, 2015. We are looking for our members to attend to dance with all the new class members. We will also need some food items to share for this dance.
We are looking forward to a year as your new presidents!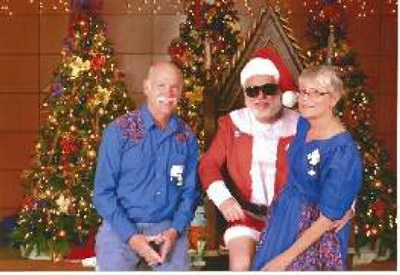 Terry & Joan Thompson
THANK YOU FOR THREE-AND-A-HALF WONDERFUL YEARS
As Nancy and I adjust to our new role as "non-Presidents" of the Sandpipers, our overall thought is "Thank You" to our club members for all your encouragement, support and participation that have made the past 3 ½ years such a wonderful experience.
When we first took office, we expressed how honored we were to serve as your Presidents - and a great honor it has been. You have made the Sandpipers the friendliest, most supportive club around, and everywhere we have gone as your Presidents we have been able to bask in your reputation.
We deeply appreciate all the hard work so many of you have put in over the years, especially the 100+ man hours spent scraping old wax and refinishing the floor at St. James, and Mike Harris almost doing himself in helping to build the Sandpipers' shed at the height of the summer heat. We are grateful for the wonderful Board members who are willing to put in so much extra time to keep the club running - many of you have served in multiple capacities for many years.
Most of all, we just appreciate being Sandpipers and being allowed to represent this wonderful club to our Square Dance community. We will miss it very much, but we are excited to see the fresh energy and enthusiasm that Terry and Joan Thompson are already bringing to their role as our new Presidents, and we look forward to their leadership of the club.
Wishing you all a happy, safe, healthy and blessed 2015.
See you in a square soon!
Larry & Nancy Anderson
THE SANDPIPER NEW YEAR'S EVE DANCE 2014
By Larry and Nancy Anderson
Wow! What a fabulous way to end the year and kick off the New Year! We had 154 people in attendance at our New Year's Eve Dance, and the energy level in the room was out of sight.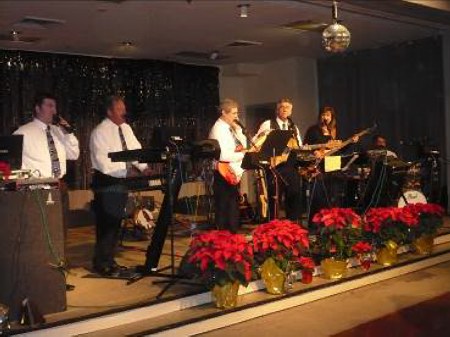 The live band (Shakedown) created a special ambiance that made you feel like you were at a really big, fancy New Year's Eve party -- especially during breaks when you were enjoying snacks and talking to friends. There was something about the "band sound" in the background that added to the overall atmosphere.
Huge thanks to all those who helped out, both by coming early on that day to put up lights and decorations and set up the glittering service tables, and those who volunteered for a half-hour in the kitchen to help host during the night (and few of you spent only a half-hour). And we really appreciated those of you who came back on New Year's Day to help carefully put away the decorations and finish the clean-up.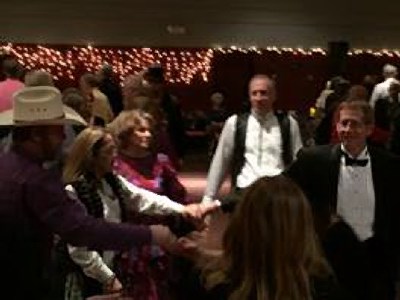 As always, it was a great group effort. Many thanks to the committee of Adrienne Cooper, Carol Burks, Catherine and Jim Bowen and Terry and Joan Thompson. As soon as I start thanking the myriad of other folks who helped, I will leave someone out, but we appreciated the help before the dance or the day after by Debby and Bill Gaarde, Kathy Knight and George and Betsy Bramblett and Barbara and Bob Fouts. If we missed acknowledging you in this article, we apologize, but just know that we deeply appreciate all who helped.
We are proud to be Sandpipers!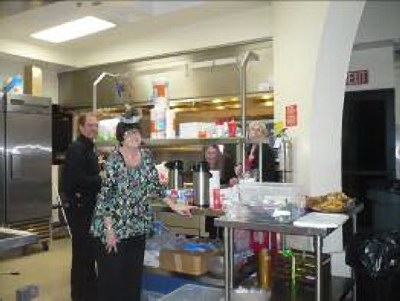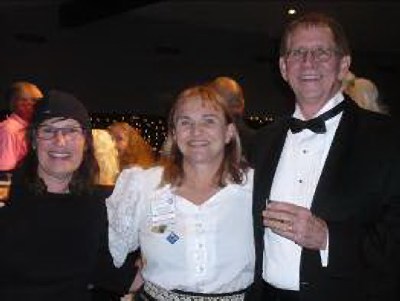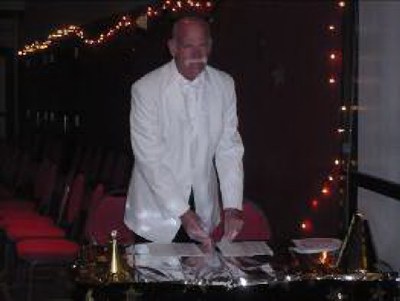 DECEMBER 13, 2014 GENERAL MEETING AND CHRISTMAS DANCE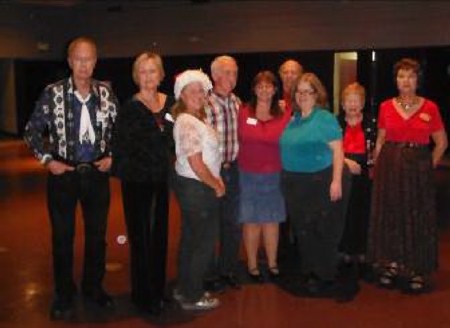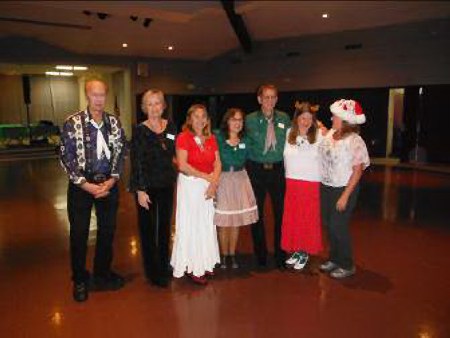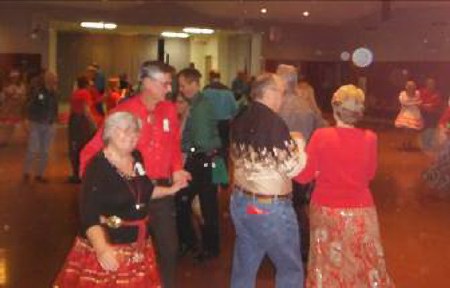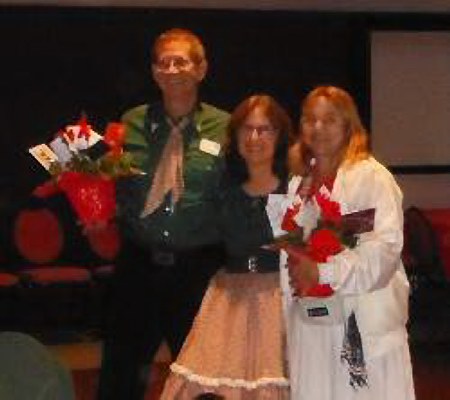 HAPPY NEW YEAR 2015
A very Happy New Year from Terry and Joan Thompson!! We want to thank everyone who planned and worked to make last night's NYE Dance a success!! We will be getting the final count, but I heard that we had 154 of 160 people checked in. The new board will be looking for your suggestions for the coming Dance Year!! See you in a Square Soon!!
CLUB DANCES
By Larry Anderson
January 10 - Bikers & Babes - Throw on your leathers and come to this festive dance with Buddy Weaver and Rey Garza. Please note: SPECIAL LOCATION - Carlsbad Recreation Hall at Harding Community Center, 3096 Harding, Carlsbad. Pre-rounds 6:45, squares 7 p.m.
February 13 - Valentines' Theme - Joint Dance with Whirlaways. Jerry Junck calling, Rey Garza cueing. The Barn
March 14 - March Madness - MAINSTREAM - Bill "Tex" Gipson calling; Regina Aubrey cueing. St. James.
VISITATIONS
By Larry Anderson
January 11-PSDA Class Level Dance Jim Randall calling. New location, Escondido Park Ave Community Center, Escondido (next to the American Legion Hall) 6:30 to 8:45 PM
January 31 - PSDA Anniversary Dance. Rod Shuping calling, Rey Garza cueing. Morning Creek Elementary School, 10925 Morning Creek Drive South, San Diego, CA 92128. 6:45 PM Rounds, 7:45 Squares
February 21 - Temecula Grape Stompers - Sweetheart Ball. Mike Sikorsky calling, Rey Garza cueing. 6:30 rounds, 7:30 squares. Temecula Community Recreation Center, 30875 Rancho Vista Road, Temecula, CA 92592.
NEXT BOARD MEETING
By Larry Anderson
Our next Sandpipers Board meeting will be at 7 p.m. Monday, January 19 at Kathy Knight's house, 2419 Newport Avenue, Cardiff, 92007. We would like both the existing Officers and Committee Chairs and the new ones to please attend to "hand off" to the new Board and get your new President and Officers off to a good start. We really hope you all put this on your calendar in ink, and try to come if at all possible. Thanks!
SANDPIPER ITALIAN FOOD FEST POTLUCK JANUARY 15, 2015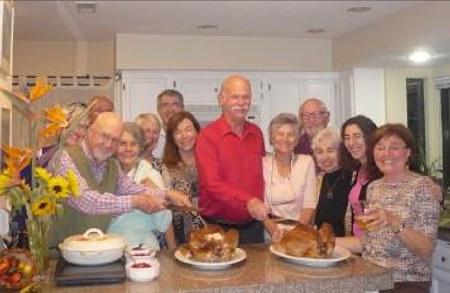 The next Sandpiper Potluck will be held on Thursday, January 15, 2015 at 6:30 PM at the home of Barbara and Bob Fouts, 1492 Schoolhouse Way, San Marcos, CA 92078. Please bring ready to serve dishes of pastas, bruschettas, salads, anti-pastas, etc. Please RSVP to 858-335-4242, barbarafouts@cox.net.
Sandpipers Planner January 2015

Sunday

Monday

Tuesday

Wednesday

Thursday

Friday

Saturday

1

2

3





Catherine Bowen

4

5

6

7

8

9

10

Renate Hausmann




Square Dance Class La Colonia 7 to 9 PM




Sandy Harris

Doris Garrison





Cay Hodge









Sandpiper Bikers & Babes Dance 6:45 PM, Harding Rec Ctr, Carlsbad Weaver/Garza





11

12

13

14

15

16

17

Visitation

PSDA Student Level Dance 6:30 PM, Escondido Park Ave Senior Center, Randall

Kathy Knight

Jennifer & Steve Schock






Square Dance Class La Colonia 7 to 9 PM








Potluck 6:30PM @ the Fouts'
















Debby Gaarde

Jennifer Schock

18

19

20

21

22

23

24

Board Mtg

7 PM @ Kathy Night's house





Square Dance Class La Colonia 7 to 9 PM




25

26

27

28

29

30

31

Square Dance Class La Colonia 7 to 9 PM
















Visitation

PSDA Anniv. Dance, 6:45 PM Rounds, 7:45 PM Squares Shuping/Garza

John Dowling