Sandpipers Parade


July 2015

Independence Celebration
&
Ice Cream Social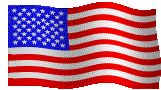 Saturday, July 11
Pre-rounds 6:45 PM
Squares 7:30 PM
Scot Byars Calling
Erin Byars Cueing

PRESIDENTS' MESSAGE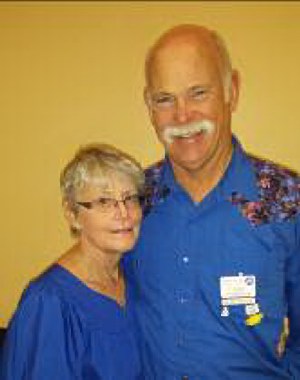 Hello Sandpiper's,
Welcome to July 2015 as we all help to celebrate our country's 239th year of independence!
On June 28th we had our club's General Meeting where we shared social time, club actives, and food! I want to thank Chuck and Joan Ades for sharing their home and garden for our meeting!
We have the following committees that I need your help on:
Shed Removal - We will need a small group to sort the items, tear down, and find a new location.
I would like to have this all done by July 15th. The shed needs to be removed before
August 1, 2015.
September Class - We have the Instructor, La Colonia, and the start date of Sept 8, 2015.
We will need help getting the fliers, and word out to as many as possible.
We are also looking for a Class Manager.
New Years' Eve - We have Romney Tannehill calling and Regina Aubrey cueing for this Dance.
The location will be at St. James on December 31, 2015. We will need some more people to help in the planning for this event. We will be looking at the food and hall setup.
Thank You!
Joan & Terry Thompson
UPCOMING SANDPIPER DANCES
July 11 - Independence - Scot Byars calling and Erin Byars cueing. The location is at St. James.
August 8 - Hawaiin Night - A joint dance with the Whirlaways. Mike Kellogg calling. There will be an Introduction Advanced tip. Rey Garza will be cueing. The location is at St. James.
September 12- Country and Western - Romney Tannehill calling and Rey Garza cueing. The location is at St. James.
FIRST VICE-PRESIDENTS DON AND ANN LEE
Square Dance Etiquette
Dance etiquette helps keep the dances running smoothly and ensures a pleasant experience for everyone. We'll start with the basics and then proceed to the fine tuning. Part 1 Basics:
When Sandpiper's are hosting a dance, be welcoming and friendly to our guest dancers in squares as well as in between tips. Be aware of which month's dance you are assigned to bring refreshments, and do so. Do your fair share and sign up for a once a year dance duty of greeting or hosting or sweeping.
Please refrain from eating garlic or onions before a dance. Please do not drink alcohol before or during a dance. Wear deodorant. Easy on the perfume. ALWAYS wear your club name badge, and a smile.
Ladies in modest dresses or skirts. Please ladies, no pants. Gentlemen in long sleeves and long pants. Traditional square dance attire is always the most appropriate, and part of the fun. Dress code exceptions made for theme dances. For example, Halloween costumes.
Square up promptly. Smile. Introduce yourself to the other dancers in your square. If you have empty positions to fill in your square, hold up one finger for each couple needed (not the number of individual dancers needed to complete the square). The caller will help direct dancers to fill in your square. NEVER leave your square to join a different ''better'' square.
If you are a solo dancer, join a square and put your hands up with your index fingers in the cross sign while standing in the position in which you dance. Right if you're dancing the lady position, left if you're dancing the man position. This indicates to everyone else which partner position you need filled. Someone will come and be your partner.
At several dances in our association, there has been an increasing occurrence of a few unpartnered ladies disregarding this rule of etiquette.
Ladies, please refrain from approaching the unpartnered men just as they enter the room and before the dance starts, and asking the men to promise dance tips with you. Using the standard dance etiquette procedure explained above keeps it fair for ALL the unpartnered ladies, and is certainly a lot more considerate of and fair to our unpartnered gentlemen. If prearrangements are made, please allow the gentlemen to approach you, and ask you for the next tip.
NO talking in the square while the caller is calling the dance. NO pushing or directing other dancers in the square. Be respectful and patient with every dancer, especially our new just graduated dancers. Remember, each and everyone of us was once a new inexperienced dancer, and even seasoned dancers make occasional mistakes in the square. At the end of the tip, thank every dancer in your square.
Between dance tips, make an effort to visit with dancers from other clubs, and new people that you don't know yet. Don't expect everyone else to come to you. Reach out and become better acquainted.
Next month: What to do when the square breaks down. Until then, remember Ladies, when you return home to your partner at the end of a tea cup chain, say "Honey, I'm home!"
SANDPIPER/WHIRLAWAYS 50'S SOCK HOP AND ROOT BEER FLOATS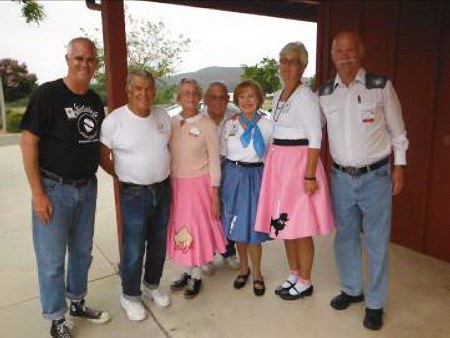 It was a warm night on Friday, June 11, 2015 when the Sandpipers and Whirlaways put on a combined club dance at The Barn in San Marcos. Callers Jim Randall and Ray Holmes put on a fun dance that was attended by over 12 squares including Sandpiper new square dance class graduates: Ned and Stevie Hall, Joy and Bruce Bainbridge and Jack and Kate Fitzsimons.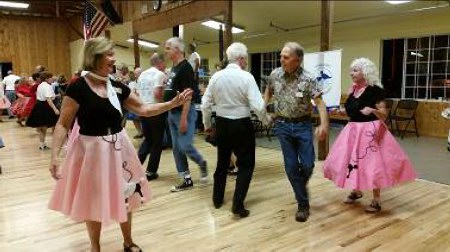 There were poodle skirts and scarfs for the women and rolled up jeans and tee shirts for the men in keeping with the 50's Sock Hop theme. The welcoming hugs were provided by Whirlaway presidents Stephen Teplansky and Marguerite Smith and Sandpiper presidents Terry and Joan Thompson. The floor was filled with round dancers between tips as Rey and Sherry Garza, just back from a 40 day vacation to Europe, cued the rounds.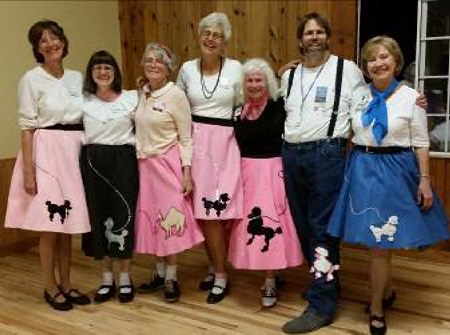 Jim and Ray called Mainstream and Plus tips as there were many new square dance graduates in attendance. Thanks to Chuck and Joan Ades and Bob and Karen Dorney, among others, who helped with the refreshments and root beer floats.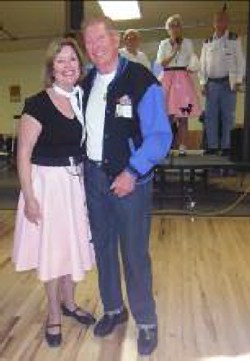 SANDPIPERS GAME NIGHT IS JULY 23, 2015
By Karen & Bob Dorney
We will be teaching and playing Canasta on Thursday, July 23 starting at 6:30 PM. No worries if you are not familiar with this card game because we will teach you how to play. It's quick and easy to learn. The goal is to have FUN! The location is Bob & Karen Dorney's house at 1278 Santa Luisa, Solana Beach. Let us know if you would like to be emailed directions to our house. If you can join us please email us at 2karendorney@roadrunner.com or call
858-481-8411
to reserve your spot at a table.
SANDPIPER SQUARE DANCE CLASS GRADUATION 2015
On Tuesday, June 2, 2015 the Sandpipers graduated seven new square dancers. Class Manager Debby Gaarde was the master of ceremonies, congratulating the new dancers on their achievement and praising caller/instructor extraordinaire Jim Randall who has been teaching the Sandpiper Square Dance Class for over 10 years.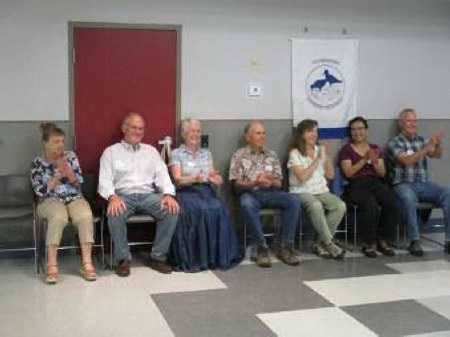 The ceremony included the introduction of 10 Sandpiper past-presidents who danced with the new dancers. Over 45 Sandpipers attended the festivities.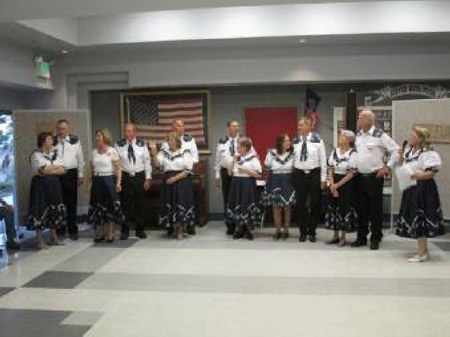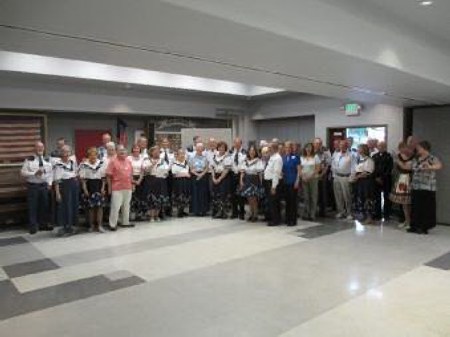 Debby introduced the new dancers and presented the diplomas. Then the new dancers ran through a celebration tunnel of Sandpipers. A graduation cake was cut.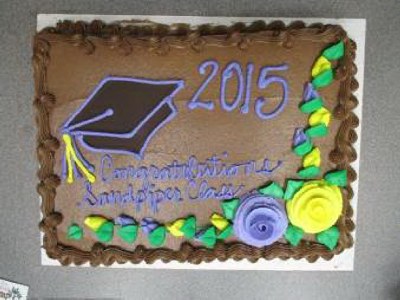 A special thanks to Debby, Jim and Sandy Levin, Bill Fuess and all the Sandpiper angels and, of course, Jim Randall for another successful Sandpiper class.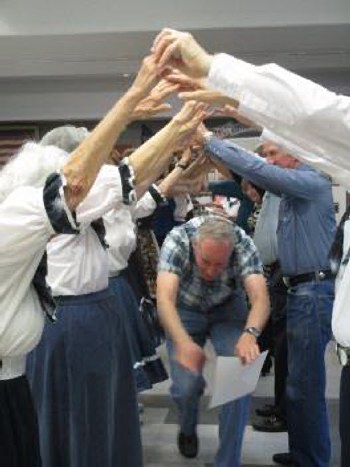 WELCOME NEW GRADUATES AND SANDPIPERS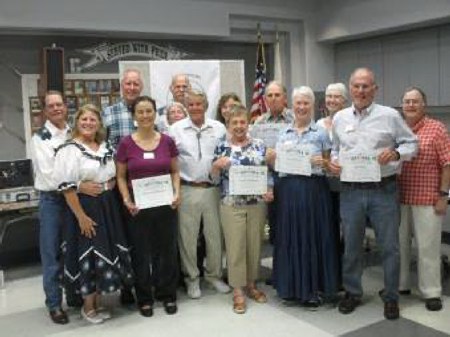 Pictured from left to right are Bill and Debby Gaarde, Joy and Bruce Bainbridge, Terry and Joan Thompson, Jim Randall, Carol Robbins, Kate and John Fitzsimons, Stevie and Ned Hall and Sandy and Jim Levin.
PSDA CLASS LEVEL DANCE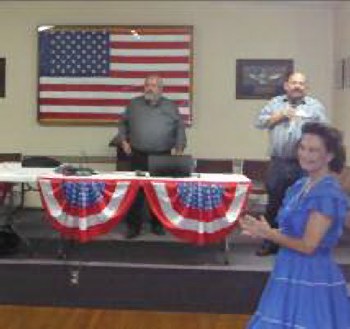 On Sunday, June 14, 2015 the Sandpipers hosted the Class Level Dance at the American Legion Hall in Escondido. Caller Steve Woodard called a fun fast-paced dance. New Sandpipers and recent square dance class graduates Ned and Stevie Hall and John and Kate Fitzsimons were among the huge contingent of Sandpipers present.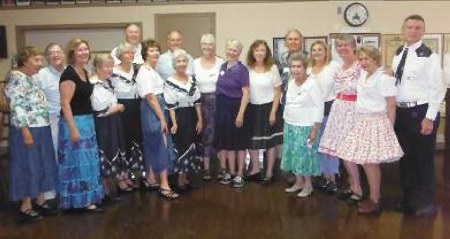 WRANGLER "MAD HATTER" DANCE
On Friday, May 29, 2015 the Sandpipers visited the Wrangler Square Dance Club for their "Mad Hatter" Dance with Buddy Weaver and Andy Allemao.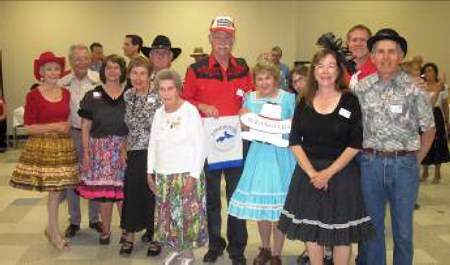 PSDA SUMMARY REPORT, June 14, 2015 Meeting
By Pete Ziegler, PSDA Rep
Other Clubs:
Grape Stompers held a square dance demonstration at their local street fair in Temecula.
Next Ocean Wavers dance will be a double dance beginning at 6:00 - 8.00 for Mainstream before their regular plus dance.
Whirlaways has an ongoing class with 12 students. Wranglers graduated 20 students and at least 17 have joined their class.
The Wranglers will hold workshops during the summer, on the first and third Sundays from 4-6PM at the San Marcos Community Center, 111 Richmar .Ave, San Marcos.
PSDA October 30 Fifth Saturday Dance: Costumes for this dance should be associated with any TV show of choice but not typical Halloween costumes.
State Council: St James Church is being considered for the next State Council Meeting on September 10 of 2016. Because this organization is having financial problems changes have occurred in procedures including no reimbursement for travel and an increase in dues.
Blood Bank: Only 5 PSDA members showed up for the Blood Bank Walk and they raised $170.00. PSDA contributed $100 to that Walk.
SDSDA: A square dance demonstration is being planned for the September 25 Padres game for 1:00-2:00 PM.
Fresno Dance 2016: The breakeven number of registered dancers is between 600-700 and PSDA members are strongly urged to support this event next year.
PSDA Club Class Advertising Support: After considerable discussion, it was voted that PSDA would take funds out of their savings to pay up to $250 in matching funds to each club in support of public advertising for the next set of square dancing classes.
There are no PSDA existing budgeted funds for this purpose. Last year this amount came from a Publicity budget line item which is now zero.
Taste of Dance: This showcase to promote/demonstrate Square, Round, Line and Clogging dance is being finalized. The rehearsal for this event will be held July 12 at Balboa Park.
The first public demonstration is being planned for the Poway area late this summer. Advertising for this event will include internet media.
SANDPIPER GENERAL MEETING AND BARBECUE 2015
We've said it so often in the past that it probably sounds like old hat, but it is hard to think of a better way to kick off summer than at the Sandpiper General Meeting, Garden Party and Barbecue at Chuck and Joan Ades' house.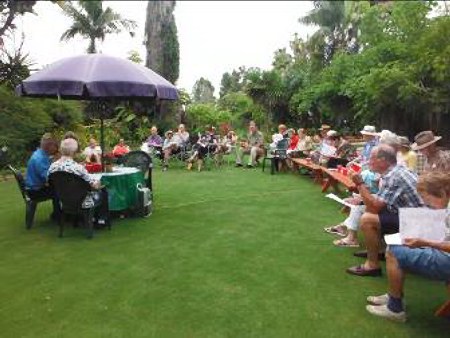 This year seemed to be one of the best, with 35 Sandpipers showing up to enjoy wonderful weather, the beautifully manicured gardens, and great fellowship. Attending for the first time were new Sandpipers: Joy and Bruce Bainbridge, Stevie and Ned Hall, and Kate and John Fitzsimons. Immediate Past-presidents Larry and Nancy Anderson arrived early to help with the setup and provided signs and manned stations to ensure everyone could locate the party and find a place to park.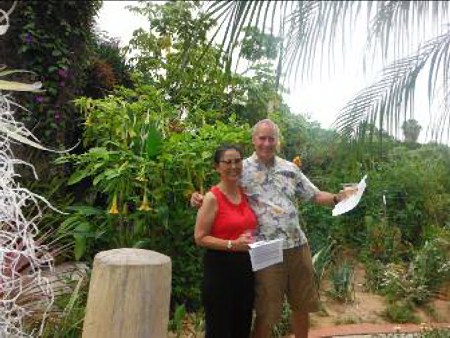 President Terry Thompson kept true to his word and kept the club business part of the afternoon brief. The majority of the day was spent in good fellowship, a lawn game of Bocce Ball and the barbecue. Chuck fired up the six foot long grill. Joan and Chuck were gracious hosts as always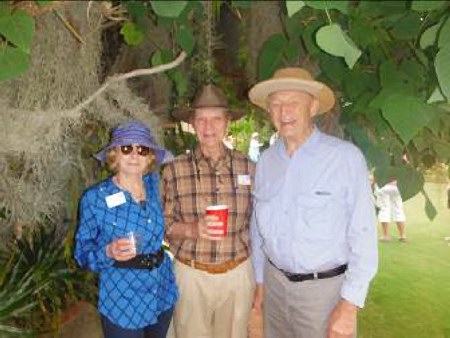 Thank you Joan and Chuck for lending the Sandpipers your garden for a few hours. Everyone had a great time. Please notice Joan Ades's expert form as she rolls the Bocce Ball while holding another ball and her drink, without spilling a drop. Below is Chuck's depiction of "Dantes Inferno."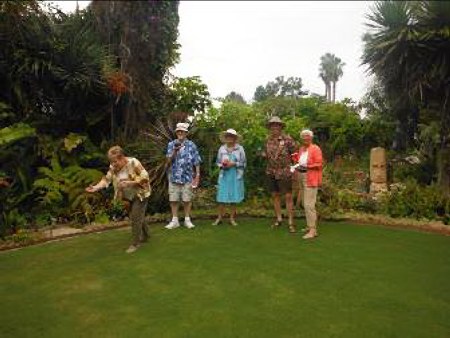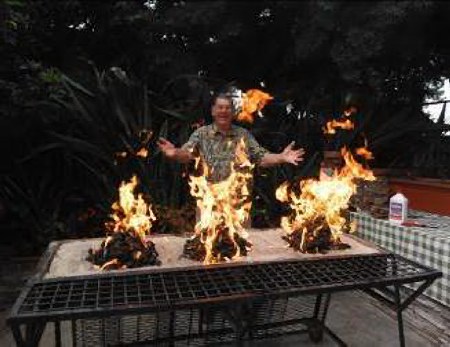 Sandpipers Planner July 2015

Sunday

Monday

Tuesday

Wednesday

Thursday

Friday

Saturday

1

2

3

4

Chuck Ades





Ryan Hartmann





5

6

7

8

9

10

11





Bob Lonnegren

Marlyn & Stan Milberger

Reyna Robinson










Sandpipers Independence Day Dance, Byars/Byars, St James 6:45 PM







12




13

14

15

16

17

18

PSDA Student Level Dance, 6:30 PM, Allemao, American Legion Hall, Escondido

Sandpiper Potluck, Picnic on the Patio, Kiffmann's, 6:30 PM














19

20

21

22

23

24

25






Sandpiper Game Nite @ the Dorney's, 6:30 PM




26

27

28

29

30

31
















Sandpipers Planner August 2015

Sunday

Monday

Tuesday

Wednesday

Thursday

Friday

Saturday

1






2

3

4

5

6

7

8





Barbara Miller























Sandpiper/

Whirlaways Hawaiian Night Dance, 6:45 PM Kellogg/Garza

St James

Karen Dorney

Judy Thum

9

10

11

12

13

14

15

PSDA Student Level Dance,6:30 PM, Clairmont,

Vista Community Service Ctr




Joan & Terry Thompson
















16

17

18

19

20

21

22

George Bramblett




Jim Levin

23

24

25

26

27

28

29







Bill & Yvonne Ryan




















Karen & Bob Dorney






30

31