Sandpipers Parade

June 2015
Sock Hop Dance
&
Root Beer Floats Night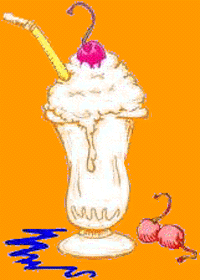 Friday, June 12
7:00 PM Pre-rounds
8:00 PM Plus Squares
The Barn, San Marcos, CA
Jim Randall & Ray HolmesCalling
Rey Garza Cueing

PRESIDENTS' MESSAGE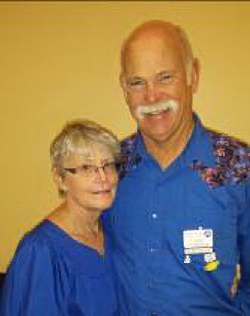 We would like to say a big welcome our Seven New Sandpiper's that will be Graduating from their class on June 2nd!!! ----- CONGRATULATIONS !!!
Speaking of Graduation … I would like to see as many of you as possible to show up for our Class's Graduation! If you have the Sandpiper's outfit, please wear them. If not please come in Square Dance attire.
We will be looking forward to seeing our new members in a square at your first Sandpiper Dance on June 12th! This dance will be held at the Barn.
We would also like to thank those who helped support this Class and a Big Thank You to our instructor Jim Randall!!!
The Sandpipers will be the host club for the PSDA dance on June 14th in Escondido.
On June 28th there will be a Short Sandpiper General Meeting and BBQ at the home of the Ades's.
From the above you can see that June is a very full month for the Sandpipers.
Terry and Joan Thompson
SANDPIPER'S 1ST VICE-PRESIDENTS
Don and Ann Lee
As we celebrate our new graduates and club members, we should also acknowledge that this class graduation would not be possible without the dedicated angels that gave so generously of their time, enthusiasm, patience, and warm friendliness. Committed, strong dancing angels make a real difference to students during class, and then while transitioning to club level dances after graduation.
A very big THANK YOU to each and every angel that helped our class.
Another big Thank You to our wonderful caller and excellent square dance instructor, Jim Randall. Ann and I have learned, experienced and angeled with several different square dance instructors over the years, and Jim is definitely one of the best.
Debby's Mentor angel plan is the best, most effective angeling that we have ever participated in. Great work Debby !
To repeat Jim's wise words for new grads and for seasoned club members:
Now, get out there and dance every week!! No excuses. The second and third weekend of the month, our association clubs have a dance on both Friday and Saturday nights. On the rare weekends when our association clubs have no scheduled dances, go dance with one of the San Diego association clubs.
SANDPIPER/WHIRLAWAYS FLOWER POWER DANCE
By Larry Anderson, Immediate Past-president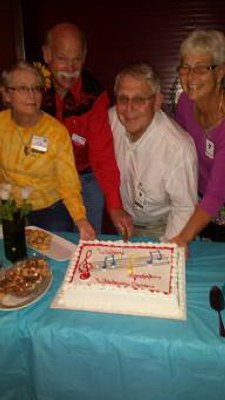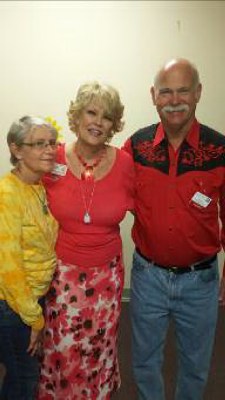 We had 98 attendees -- roughly 12 squares. I believe the most squares dancing at any time was 10. It was a great evening, lots of energy and fun, and we had a "normal" dance attendance still on the floor at the end of the evening. This was our second joint dance with the Whirlaways, and again each club netted a small amount of money from the dance, even though the attendance meant the caller got more than her minimum. So, by combining forces and sharing expenses, we came out ahead rather than "losing" money on the dance as we typically do.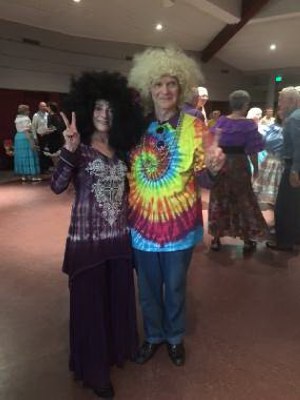 Deborah Carroll Jones did a great job of calling, and everyone enjoyed her great voice, especially in her yodeling call! She kept the floor moving and the calls were fun and challenging without breaking down squares.
(PS The attendance was phenomenal considering we were head-to-head with the Circulators Anniversary Dance, which I am sure drew many of the San Diego crowd.)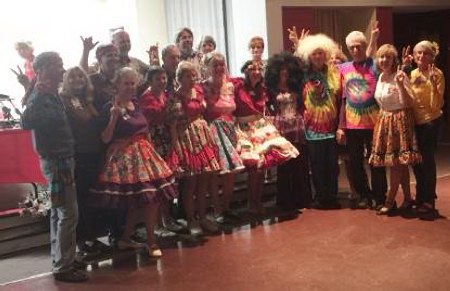 SANDPIPER SQUARE DANCE CLASS NEWS
By Debby Gaarde, Sandy and Jim Levin, Class Managers
On Tuesday, June 2, 2015, our students will be graduating from 9 months of class. Please come and meet them and welcome them to our Club. Wear your Sandpiper's Club Outfit, or the same colors as our outfit, or an outfit that you would like us to consider for a new Club Outfit. We still have two Club Outfits for sale. Contact Deb Gaarde. Thanks again to all of the Mentors, Angels and Support Team who come faithfully every week to support our Students! We have 7 new members joining our Club. The Students will be ready for our first Sandpiper Dance in June. Be sure to dance with them and get them accustomed to the fun and games we enjoy at our dances.
WELCOME NEW SANDPIPERS
By Catherine Bowen, Membership Chair
Introducing our Newest Sandpipers
We want to welcome our new Sandpipers who graduated from our 2014-2015 class. Below are their pictures and a short introductory paragraph on each. Do welcome them into your square at our dances.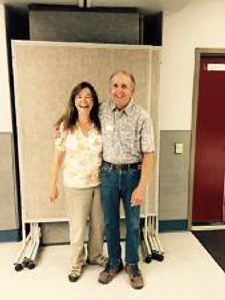 John and Kate Fitzsimons
John and Kate have been living in the San Diego area since 1976. John is retired and enjoying hobbies and Kate works as an art instructor. They have two daughters who started square dancing four years ago and finally convinced them to start taking lessons. It has turned out to be a lot of fun!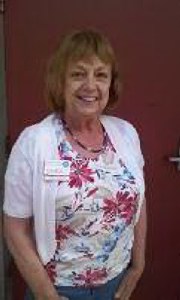 Carol Robbins
Carol hails from Jamestown, New York, best known as the hometown of Lucille Ball. She moved to San Diego in 1965 where she attained her B.A. and Master's Degree while raising four children. She is thrilled to become a member of the Sandpipers whose members have been wonderfully kind and generous while she has been learning to square dance.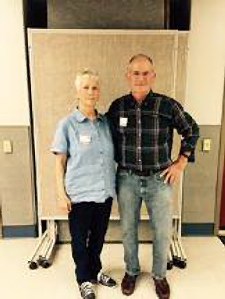 Ned and Stevie Hall
Ned and Stevie moved to Carlsbad last year after having lived in Torrey Hills for 14 years. They are both retired and have been married 45 years. Between them they have five children and seven grandchildren. Ned is a dedicated triathlete and general all-around handyman, and Stevie likes to read, garden, cook and sew. They decided to learn square-dancing on a whim and have totally enjoyed the process and all the extremely friendly, kind, and patient angels who have helped them along the way. They look forward to a long and active membership in the Sandpipers Square Dance Club.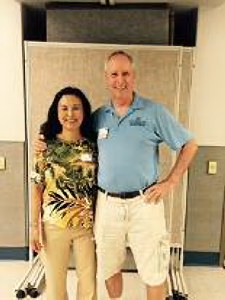 Bruce and Joy Bainbridge
Bruce was born on Staten Island, New York, and Joy was born in Maryland. They met working as RN's at Scripps Memorial Hospital in 1989. Bruce now works at Tri-City Medical Center and Joy is a self-employed acupuncturist and herbalist. Bruce enjoys singing in his church choir. They love living in their little bit of paradise in Encinitas where they can grow organic herbs, fruits, vegetables, and flowers all year long. They decided to take up square dancing because it looked like fun and they wanted to stay fit. Sandpipers have come through on these two counts, and they said they met many great people as a bonus. They wish to express their thanks to Jim Randall, and all the angels.
GENERAL MEETING AND POTLUCK SUNDAY, JUNE 28, 2015
By Chuck Ades
Save the date for the summer General Meeting and Potluck on June 28th. All members, including new members, are invited for a day of fun and eating. There will be a short meeting followed by a potluck and barbecue. Everyone should bring a side dish to share and something to barbecue. It will be the first opportunity for club members to welcome our new members into the club in a social environment. Additional things happening will be playing table games (cards, etc.), bocce ball, shuffle board. Of course, there will be a lot of just talking
The party begins at 3PM with some snacks, relaxing, playing games, touring the garden and small talk. The barbecue will be fired up at about 4:30 PM. The location is 1041 Passiflora Pl. Encinitas 92024. The phone number is 760-753-6822. An announcement including directions is provided separately.
SANDPIPER CINCO DE MAYO POTLUCK
By Christine Kiffmann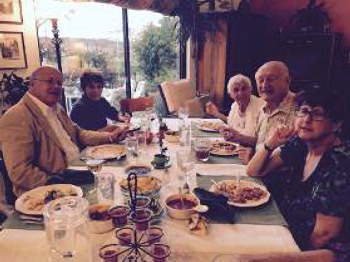 Sixteen Sandpipers enjoyed scrumptious dishes of Mexican cuisine on Thursday, May 21, 2015 at Christine's home. The plates were all licked so clean, that the dishwasher was needed to only sanitize them. Although everyone's tummy was filled to the brim, the delicious dessert specialty of apples with cinnamon was still enjoyed by all. The next Sandpiper Potluck will be on Thursday, July 16, 2015 on Christine's patio, as it will be a Picnic On The Patio. So dream up your most creative side dish and come join the fun at 6:30, Thursday, July 16, 2015. Yes, the barbecue will be on.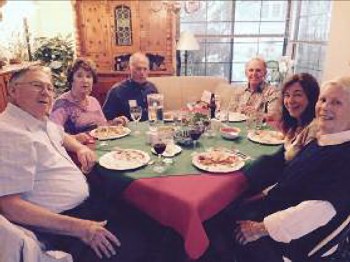 Upcoming Dances and Events
By Terry Thompson
June 2 - Class Graduation at La Colonia 715 Valley Ave Solana Beach @ 7PM.
June 12 - Sock Hop Sandpiper and Whirlaway's Joint Dance at the Barn, 1952 Sycamore Dr. San Marcos @ 7:30PM. Jim Randall and Ray Holmes Calling. Rey Gaza cueing.
June 14 - PSDA 2nd Sunday Dance at the American Legion Hall, 230 Park Ave. Escondido. Steve Woodard Calling. 6:30PM, Sandpipers Host
June 28 - Sandpiper General Meeting and BBQ at the Ades's 1041 Passiflora Pl. Leucadia. @ 3PM.
August 8 - Hawaiin Night Sandpiper and Whirlaway's joint dance at St. James 625 S. Nardo Ave Solana Beach.
September 8 New Sandpiper Class at La Colonia 715 Valley Ave Solana Beach @ 7PM.
September 12 Country and Western at 7 PM, St. James 625 S. Nardo Ave Solana Beach. Romney Tannehill calling and Rey Gaza cueing
PSDA REPORT
By Pete Ziegler, PSDA Rep
May 3, 2015 Meeting:
Other Clubs:
Ocean Wavers will have a new slate of Board members next month; their July 3 dance between 6:00 and 8:00 PM will be class level only followed by Plus dancing with a mystery caller.
Grape Stompers held line dance instructions at their May 16 dance. Wranglers will not hold Summer dances at the Gazebo this year but they will be held at Rolling Hills Elementary School. They expect 17-18 students to graduate this Spring and will hold plus level dances the first and third Sunday afternoons of the month during the Summer.
State Convention: Approximately 700 dancers attended the convention and the PSDA wants to thank all club members who volunteered to assist in making this a successful convention. The 2016 Convention will be held in Fresno CA.
Stage Coach Festival: Held in Indio with 75,000 people attending. There were several square dancing events. More information can be found on Facebook.
PSDA Assist to Club Advertising: Funds from the PSDA to assist club advertising this year are not expected since the PSDA does not have any resources from their Publicity account. PSDA is looking for club suggestions and assistance for fund raising ideas at their dances.
Blood Bank: Club members can sponsor walkers for their 5K walk/run on June 7 through www.sandieobloodbank/org/events/5k-walk-run-2015. Use promotion code 673FF if you want to register and pay $10.00 saving $20.00.
Insurance: If clubs have non square dancing events, there is no insurance coverage. Add square dancing and then the dancers will be covered.
Palostar: The next edition will include larger pictures and will be the one distributed to all new joining club members.
PSDA Sunday Dance: Sandpipers will host the June 14 class level dance.
Sandpipers Planner June 2015

Sunday

Monday

Tuesday

Wednesday

Thursday

Friday

Saturday

1

2

3

4

5

6




Sandpiper

Square Dance Club Graduation 7 PM, La Colina




Debby & Bill Gaarde









7

8

9

10

11

12

13





Patti Jackson




Bob Fouts








Sandpiper's & Whilaway's joint dance Sock Hop,

Randall & Holmes, The Barn, 7:00 PM








14

15

16

17

18

19

20

PSDA Student Level Dance Amer. Legion Hall Escondido, 6:30 PM, Sandpipers Host





Jim Bowen







Adrienne Cooper & John Gordon












Joan & Chuck Ades

Dot & Gilbert Omens

21

22

23

24

25

26

27






Adrienne Cooper

Doris Fitzpatrick

Tracy Johnson








28

29

30

Sandpiper General Meeting & BBQ 3 PM @ the Ades'




Sandy & Jim Levin















Sandpipers Planner July 2015

Sunday

Monday

Tuesday

Wednesday

Thursday

Friday

Saturday

1

2

3

4

Chuck Ades




Ryan Hartmann




5

6

7

8

9

10

11





Bob Lonnegren

Marlyn & Stan Milberger

Reyna Robinson










Sandpipers Independence Day Dance, Byars/Byars, St James 6:45 PM







12

13

14

15

16

17

18




Sandpiper Potluck, Picnic on the Patio, Kiffmann's, 6:30 PM














19

20

21

22

23

24

25






26

27

28

29

30

31










Kurt Olsen