Sandpipers Parade

May 2015
Flower Power Dance
Saturday
May 9, 2015
6:45 PM
St. James Parish Hall
Solana Beach, CA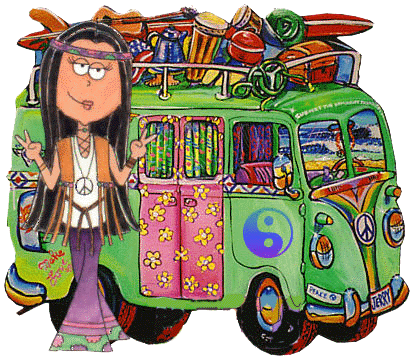 Deborah Carroll-Jones
&
Regina Aubrey

PRESIDENTS' MESSAGE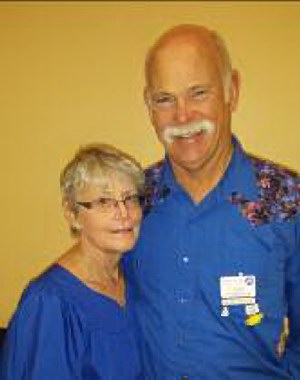 Hello Sandpiper's, last month we had a great turnout for a very enjoyable Sandpiper's 42nd Anniversary Dance. On April 18th Holley Kinnear joined Joan and me for representing the Sandpiper's in the PSDA Group for the State Convention Grand March. Joan and I danced on Saturday night and Sunday. It was great to see some of our class members at this convention! Everyone who we talked to seemed to have had a good time. It was great to dance to many of the out of state callers!
Speaking of our class, their graduation will be coming up on June 2nd. They will have their first Sandpiper Club Dance on June 12th. We have seven applications from our class to become Sandpipers!
On June 28th the Sandpipers will be having their General Meeting. This will be located at Chuck and Joan Ades home, which is located at 1041 Passiflora Place. We will be starting at 3PM with snacks, games and garden tour. The General Meeting will be at 4PM then followed by a BBQ.
Terry and Joan Thompson
SANDPIPERS 1ST VICE-PRESIDENTS
Don and Ann Lee
If you do not yet subscribe to the
Palostar,
go to
www.palomarsda.org
Follow the prompts to order your
Palostar
subscription. The
Palostar
features messages from our association presidents, spotlight on dancers, photos, and has the full calendar of each club's dances and the themes for these dances, as well as info about Palomar Association 5th Saturday dances, related dance and
contact information.
You can pick up the quarterly Las Fiestas (free) San Diego Association schedule of club dances and themes at the 3rd Saturday Roundup, which is a monthly association dance held in the beautiful Balboa Park club. Come out and dance on the new wood dance floor in the Balboa Park club!.
Real dance shoes make a difference. The best selection of dance shoes for men and women is at Carmen's Dance Shoes in San Diego. Sadly, Square Up Fashions in Oceanside does not carry men's shoes, and carries only a very limited selection and sizes of women's shoes. If you know your size, style and color, you can order shoes from Petticoat Junction in Washington (order on line). They have the best price and excellent customer service. I've ordered two pairs of shoes from them. Next option is to shop the great shoe vendors at the Indio Festival in November.
With five or six plus level dances every month in our association, we have plenty of opportunities for fun dancing.
SANDPIPER 42ND ANNIVERSARY DANCE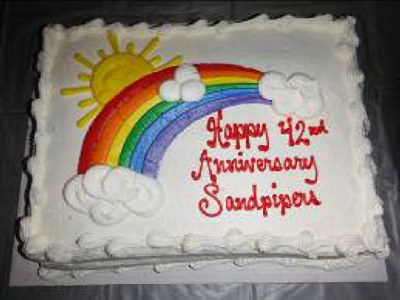 The Sandpiper 42nd Anniversary Dance was a huge success with ten squares on the floor most of the night. Caller Charlie Robertson called a fast paced, fun dance and Rey and Sheri Garza were on hand to lead a large contingent of Round Dancers. The Sandpipers put on a wide array of refreshments, including a large 42nd Anniversary Cake.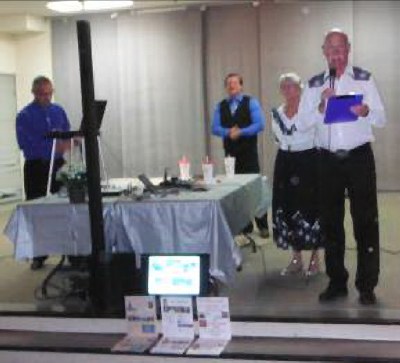 Thanks to Renny and John Dowling for providing the welcoming hugs, Karen and Bob Dorney for being the hosts, and Barbara Fouts for helping with the clean-up (husband Bob was home fighting a cold).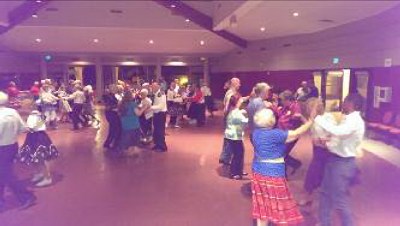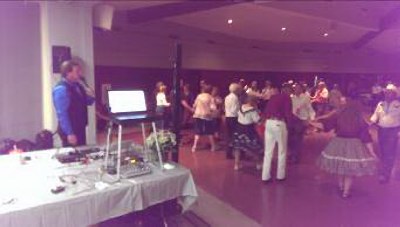 SANDPIPERS 42ND ANNIVERSARY DANCE HONORS PAST PRESIDENTS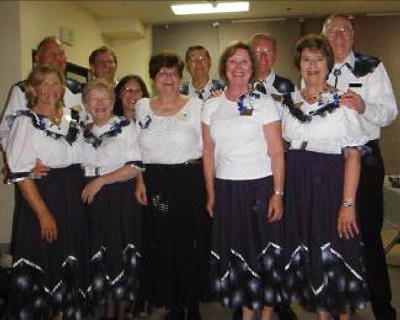 Past presidents honored at the Sandpipers 42nd Anniversary Dance are: (from left to right) Mike and Sandy Harris 2007-2009; Joan and Chuck Ades (Chuck is in the middle background) 2009-2011; Nancy and Larry Anderson (2011-2014), Miriam Snitkin (1993-1994); Patti and Fred Jackson 2003-2007 and Catherine and Jim Bowen 2001-2003) A special thanks to the Sandpipers past presidents for all you do and have done for our club.
GINNY AND JIM PRICE ATTEND THE SANDPIPERS 42ND ANNIVERSARY DANCE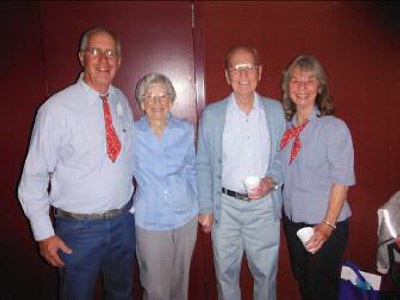 Former Sandpipers Ginny and Jim Price (pictured in the middle) who were Sandpipers for over 20 years, attended the Sandpipers 42nd Anniversary Dance to visit with long time friends. On either side of the couple are their son-in-law David Jones and their daughter Cindy who are also square dancers and members of the Wranglers Square Dance Club.
UPCOMING SANDPIPER CLUB DANCES
May 9th 60's Flower Power - Joint dance with the Whirlaways at St. James. From Texas: Deborah Carroll-Jones will be calling and Regina Aubrey will be cueing.
June 12th Friday School's Out/ 50's Sock Hop - Joint dance with the Whirlaways at the Barn in San Marcos. The callers will be Jim Randall and Ray Holmes and Rey Gaza will be cueing.
July 11th Independence Day - Club dance at St. James. Scott Byars will call Erin Byars will cue.
August 8th Hawaiin Night - Joint dance with the Whirlaways at St. James. Mike Kellogg will be calling. There will be an introduction to Advanced tip. Rey Gaza will be cueing.
FORMER SANDPIPER HOWARD DIXON PASSED AWAY ON FEBRUARY 14, 2015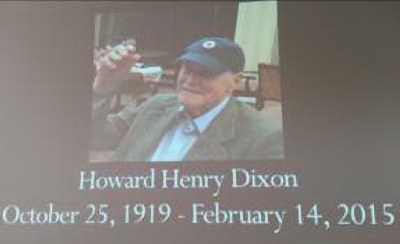 Howard and Barbara Dixon joined the Sandpipers in 2000 and were active in the club angeling the Thursday night class and were members of the Board of Directors as Sunshine and Telephone Chairs. They hosted Board Meetings and Game Nights in their Del Mar residence near Del Mar Beach. They were very gracious hosts with Barbara almost serving a full meal for refreshments. Barbara became ill and could no longer dance in about 2005. She passed away in August 2010. Howard finally retired from square dancing in about 2009.
Sandpipers attending Howard's Celebration of Life on April 25, 2015 were Betty Lou Sanderson, Renny and John Dowling, Karen and Bob Dorney, Patti and Fred Jackson, Janet Judge and Wayne Warren-Angelucci.
2015 STAGECOACH COUNTRY MUSIC FESTIVAL, INDIO, CA APRIL 24-26, 2015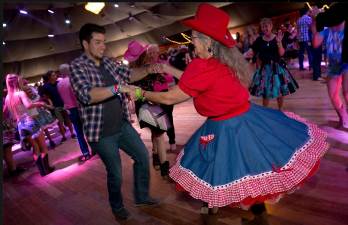 The Stagecoach Music Festival set up its massive stages at the Empire Polo Club in Indio, California, for three days of country and Americana music. Nightly headliners Tim McGraw, Miranda Lambert and Blake Shelton performed for a sprawling crowd on the main stage, as rising artists like Chris Janson, Brothers Osborne and Nikki Lane got face time with fans on the festival's secondary platforms.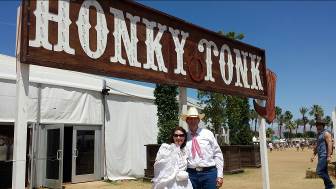 Larry and Nancy Anderson were part of a group of 50 Southern California dancers who put on demonstrations each day and got several hundred people to try square dancing during the 3-day Stagecoach Festival attended by over 75,000 fans.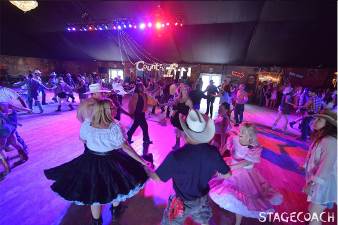 PSDA REPORT APRIL 12, 2015 MEETING
By PSDA Rep Pete Ziegler
Other Clubs Reports: Grape Stompers: New classes began in March with 36 new dancers. The large number of new students is attributed to "word of mouth," visitation advertising at other square dances and beginning classes during Spring as opposed to the Fall. Club Dances will now include the first half hour of line dancing and no round dancing in May and June. Whirlaways: Students are now attending both mainstream and plus dances. Wranglers: Expect 20 students to graduate this season.
Taste of Dance Program: Program being finalized to promote square dancing and is expected to begin in August 2015. Promotion will be through all the square dance associations for San Diego County as well as advertising in the news media and Meet-Up organizations. The program will be shown at some club functions beginning in May 2015 as a preview for the public venues. The program will demonstrate different types of dances and will encourage audience participation.
Palostar: The most current edition of the Palostar will be distributed to all students upon graduation by the Palostar Editor. Class Director please provide the names of each graduating student before graduation to the Editor.
PSDA Anniversary Dance on January 20, 2016 (previously called the Jamboree) is being planned and consideration is being given to starting in the afternoon and continuing through the evening. Scheduling of dances will be at different dance levels at different times during this longer period.
Sandpipers Planner May 2015

Sunday

Monday

Tuesday

Wednesday

Thursday

Friday

Saturday

1

2








3

4

5

6

7

8

9





Square Dance Class La Colonia 7 to 9 PM













Betsy Bramblett




Sandpiper/

Whirlaways 60's Flower Power Joint Dance, Deborah Carroll-Jones/Regina Aubrey, St James 6:45

10

11

12

13

14

15

16




Square Dance Class La Colonia 7 to 9 PM



















17

18

19

20

21

22

23






Square Dance Class La Colonia 7 to 9 PM




Joan Ades

Sandpiper Mexican Potluck








24

25

26

27

28

29

30








Square Dance Class La Colonia 7 to 9 PM













Ariana Bramblett




31

Sandpipers Planner June 2015

Sunday

Monday

Tuesday

Wednesday

Thursday

Friday

Saturday

1

2

3

4

5

6

Square Dance Class Graduation

La Colonia 7 to 9 PM




Debby & Bill Gaarde






7

8

9

10

11

12

13





Patti Jackson




Bob Fouts








Sandpiper's & Whilaway's joint dance Sock Hop,

Randall & Holmes, The Barn, 7:30 PM




14

15

16

17

18

19

20




Jim Bowen








Adrienne Cooper













Joan & Chuck Ades

Dot & Gilbert Omens

21

22

23

24

25

26

27






Adrienne Cooper

Doris Fitzpatrick

Tracy Johnson







28

29

30

Sandpiper General Meeting & BBQ 3 PM @ the Ades'




Sandy & Jim Levin