Sandpipers Parade

November 2015
Thanksgiving Dance
Saturday, November 14, 2015
6:45 PM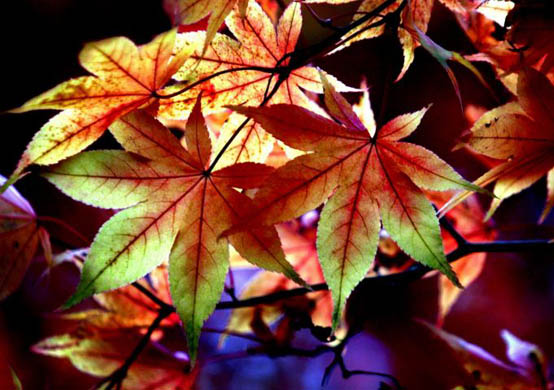 St. James Parish Hall
David Mee calling
Dawn Mee cueing

PRESIDENTS' MESSAGE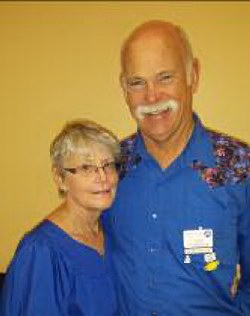 Hello Sandpipers,
Welcome to November 2015!
The Sandpiper Square Dance Class is continuing with five to six students. The class instruction is from 7-8:30 PM. We have added two workshop tips from 8:30-9:10 PM. We are also asking the angels/workshop attendees for a $6.00 donation. This donation is to help cover the fees for caller/instructor Jim Randall and the hall. We do thank all of those whot can help support this class!
On Monday, November 16, 2015 at 6:30 PM there will be a potluck at Chuck and Joan Ades' home located at 1041 Passiflora Pl. Leucadia. The potluck will be followed by a special Sandpiper meeting for a Bylaws change. After the special meeting, there will be a Board Meeting. All Sandpipers are encouraged to attend these meetings.
Please remember to purchase your Sandpiper NYE 2015 tickets!
Terry and Joan Thompson
SANDPIPERS ROARING 20'S AND PIE NIGHT DANCE
By Larry Anderson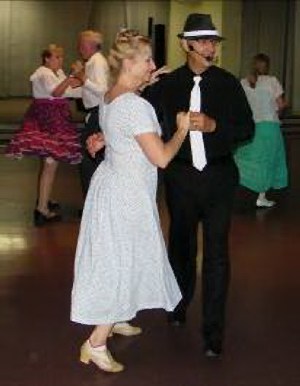 Although we had a relatively small crowd (coming the night after the Whirlaways' Anniversary Dance), everyone who came had a great time. Cliff Simpson called a great dance and made every tip fresh. We still had five squares on the floor at the end of the evening.
Rey Garza was his usual hit as cuer, and along with wife Sherry helped carry our Roaring 20s theme with their great outfits and graceful dancing (as well as music choices).
The Wranglers brought enough dancers to earn a Banner - much appreciated!
Bob and Barbara Fouts manned the check-in table and made sure all the gangsters who came checked their Tommy guns at the door!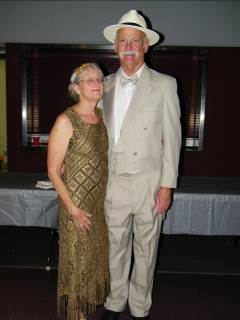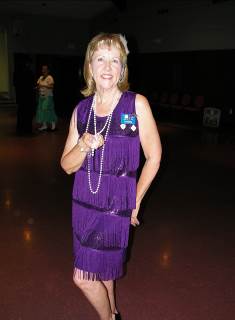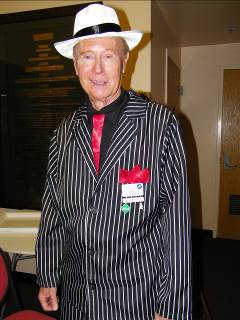 SANPIPER DANCES 2015
Saturday, November 14th Thanksgiving Dance David Mee is calling and Dawn Mee cueing. The location is St. James.
Saturday, December 12th Holiday Cookies Dance Rod Shuping is calling and Rey Graza cueing. The location is St. James. There will be a short General Meeting before this dance. Please plan to attend.
Thursday, December 31st Sandpiper New Year's Eve Dance Romney Tannehill is calling and Regina Aubrey cueing. The location is St. James. Tickets must be purchased in advance ($25 each).
PROPOSED SANDPIPER BYLAW CHANGE
By President Terry Thompson
We would like to encourage all of you to attend a very important Sandpiper potluck, Special Meeting and, if you wish, stay for the Board Meeting scheduled for November 16th at the home of Chuck and Joan Ades located at 1041 Passiflora Pl., Leucadia starting at 6:30 PM.
After the potluck, we will have a Special Meeting requesting your vote on changing our By-laws. That will make it possible to improve our financial position.
The requested change is in Article VI Section 2.
FROM: Annual Dues shall be determined by the membership, will be listed in the Standing Rules and shall be due twice yearly, in advance, payable before the end of December prior to the next calendar year and June of the next calendar year. Payment of dues includes a members' entrance fee for regular monthly dances, insurance and newsletter.
TO: Annual Dues shall be determined by the membership, will be listed in the Standing Rules and shall be due in December prior to the next calendar year.
The reason for this change is that, frankly, the club can no longer exist with is present financial rules. The club is losing money at an alarming rate. Therefore, it is important that you attend this Special Meeting.
Recently several things have happened that have changed the club's financial position. The most important is the drop in membership. There is always attrition in membership due to people leaving the area or people that discontinue dancing. However, the club has previously been able to counter this attrition by having good size classes and adding members each year to replace those we lose. Recently this has not been the case. A few years ago we had over 100 members. This put the club in such a good financial position that we could offer "good deals" that other clubs didn't offer. Now it looks like we will have to bring our club more in line with other PSDA clubs' financial structure.
After the by-law change has been approved, we can proceed to get the club back on its feet financially. The changes to our 2016 Proposed Budget will be discussed. Any questions that you may have will be answered at this time. You are always welcome.
As members of the Sandpipers Club you are invited to attend the Board Meeting that will follow this Special Meeting. During the discussion, you may make your input known, but the final vote will made by the elected board members. Board meetings are always open to all members.
Come join the potluck, and we invite you to stay for both meetings.
SANDPIPER OCTOBER 2015 POTLUCK
By Christine Kiffmann
Oktoberfest - German Food Potluck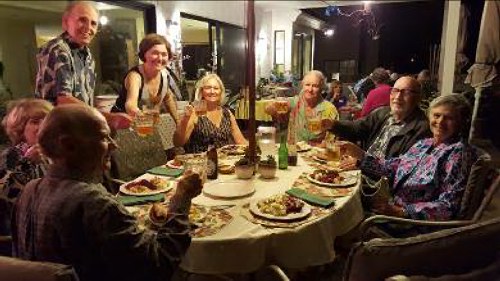 Om-pa-pa German music greeted everyone at Christine's house, as 19 Sandpipers arrived for a fun filled evening of friendship and enjoying German food together. The group gathered on the patio while enjoying liverwurst with crackers, pretzels and drinks. Choices on the buffet included two kinds of red cabbage, potato salad, cabbage and ribs with mashed potatoes, beet salad, etc. Pete Ziegler brought and cooked all the sausages on the grill. Needless to say all of the dishes were skillfully prepared and so very tasty. Of course, as a final touch, the evening was topped off with warm apple strudel and ice cream. A good time was enjoyed by all on the patio, on a very warm evening in October.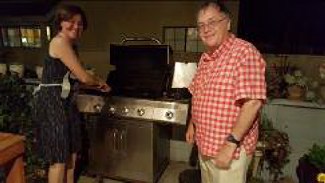 Special Meeting ! Everyone please attend!!

NOVEMBER POTLUCK -MONDAY NOVEMBER 16TH !!!!
Where - Joan and Chuck Ades' home, 1041 Passiflora Place, Leucadia, 92024
When - Potluck 6:30 - 7:30, SPECIAL General Mtg. 7:30
Theme - Fall/Thanksgiving - Bring whatever. All dishes welcomed.

OCTOBER 2015 PSDA REPORT
By PSDA Rep Pete Ziegler
Other Clubs:
Double SDs: There are 8 students attending classes. There will be no November regular scheduled dances.
Grape Stompers: December will be dark.
Ocean Wavers: Holding classes to teach the ladies the man's part and for men to learn the ladies part. They recently graduated 15 students and will retain Brenglel Terrace as their dancing location.
Wrangles: Their new class initially had 40 students and classes usually compose of 25-27 students. They have angels from other clubs assisting. Their Hustler Rustler dance on November 20 is designed for all club's new students and will include dinner.
PSDA Dances: Only three dances will be held in 2016.
PSDA Second Sunday dances: During 2016 more dances will be held at the Vista Community Center facility.
Fiesta 2015 will provide new students and their friends a BLAST CLASS. This is an all day class on November 6 to teach existing new students and their friends (at no charge) square dancing so they can achieve the same level as existing students so the friend would be up to speed to join existing square dance classes.
See page 6 of the Sept-Oct Palostar for more information.
GAME NIGHT, OCTOBER 2015
By Karen and Bob Dorney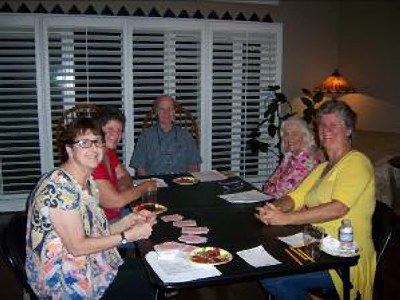 Anndee Travers and Holley Kinnear's mom Dusty were Game Night's winning team. Dusty said she had not played Canasta for over 30 years but our "cheat sheets" and game review make it possible to jump right in and have fun.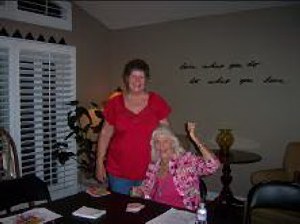 Carol Burks' chocolate chip cookies were delicious with Anndee's red wine. Sometime after everyone arrived, we discovered our dog, Katy, was missing. Apparently she'd slipped out as Sandpipers were arriving. Bob took off on foot and I jumped in the car to look for her. We found her two blocks away in the middle of the street in the dark.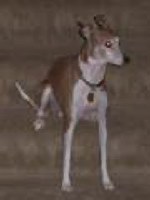 Our next Game Night is Thursday, November 19 at 6:30. If you can attend please email us at
2karendorney@roadrunner.com
or call 858-481-8411.
We'd love to see you!
Sandpipers Planner November 2015

Sunday

Monday

Tuesday

Wednesday

Thursday

Friday

Saturday

1

2

3

4

5

6

7

Mike Harris




Joy & Bruce Bainbridge

Square Dance Class La Colonia 7 to 9 PM










Visitation

Fiesta de la Quadrilla 11/6 to 11/8





Doris & Karion Fitzpatrick

8

9

10

11

12

13

14





Pete Ziegler





Square Dance Class La Colonia 7 to 9 PM




Larry Anderson














Sandpipers

Thanksgiving Theme Dance, St James, Mee/Mee 6:45 PM




15

16

17

18

19

20

21




Sandpiper Potluck@the Ades', 6:30 PM

Special Meeting@ 7:30 PM and Board Meeting




Square Dance Class La Colonia 7 to 9 PM







Gilbert Omens





Game Night @ the Dorney's 7 PM

Ann Lee




Nancy & Larry Anderson







Barbara Fouts





22

23

24

25

26

27

28

Fred Jackson









Square Dance Class La Colonia 7 to 9 PM







Happy Thanksgiving!

Leonard Seagle






29

30











Sandpipers Planner December 2015

Sunday

Monday

Tuesday

Wednesday

Thursday

Friday

Saturday

1

2

3

4

5

Square Dance Class La Colonia 7 to 9 PM





Barbara & Loren Miller

Bill Gaarde




Don Lee




6

7

8

9

10

11

12




Sandy & Mike Harris

Square Dance Class La Colonia 7 to 9 PM

















Sandpiper Holiday Cookies Dance, St James Shuping/Garza

6:45 PM

General Meeting before dance.

13

14

15

16

17

18

19




Square Dance Class La Colonia 7 to 9 PM






Loren Miller














Patti & Fred Jackson

20

21

22

23

24

25

26

Renny Dowling





Square Dance Class La Colonia 7 to 9 PM







Christine Kiffmann

Steve Schock

27

28

29

30

31

Catherine & Jim Bowen




Square Dance Class La Colonia 7 to 9 PM










Sandpiper

NYE Dance, St James, 8 PM

Tannehill/

Aubrey