Sandpipers Parade


October 2015
Roaring Twenties Dance
&
Pie Night
(Club members bring pies to share with guests.)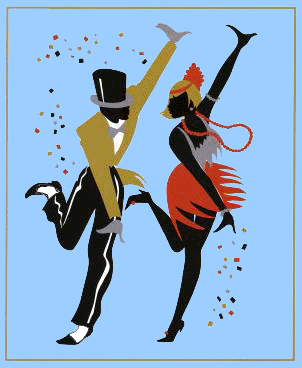 SATURDAY, OCTOBER 10, 2015
Cliff Simpson Calling
&
Rey Garza Cueing

PRESIDENTS' MESSAGE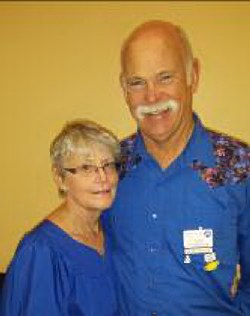 Hello Sandpiper's and welcome to October!
As some of you already know, we have started our new class, However, do to the small turnout, we have made a change to the class format. Jim will be teaching the student class from 7 to 8:30PM. Then at 8:30 he will be teaching a plus workshop. This is open to returning dancers and those who just want to review. Therefore, we are looking to have some more dancers join us for these workshops. We will be asking for a $2.00 donation to help to cover these workshops and the club expenses.
We will try this format for a few weeks to see how it works out. The students that we have all seem willing to return.
On October 12th <Date Change> we will be having our Board Meeting and at this meeting will be presenting the proposed 2016 Budget. We will also be presenting a Club Dues restructure. Both of these items are interrelated. Also with the cost of our callers increasing and fewer club members we need to make changes to these items.
Sandpiper New Year's 2015. I would like you to support our club by purchasing your NYE tickets. Everyone has always enjoyed our dance, and we are looking forward to having another great one this year!
Terry and Joan Thompson
CHANGE IN CLASS TO CLASS AND WORKSHOP FORMAT -
Starting with the Tuesday, September 30th class, the class will be held from 7:00-8:30 PM, followed by a half-hour workshop from 8:30-9:00 PM. The reasons for the change: We only have 8 students for this 35 week class and their $6/class does not cover the expenses for Jim Randall as teacher as well as the hall rental; in addition, the experienced Sandpiper members attending as Angels seem happy to spend a half hour for the opportunity to improve their dancing skills. We are asking that those attending the workshop donate $2/dancer. This will offset a portion of the class costs.
Our options were to cancel the class and absorb the loss of paying for the hall rental for 35 classes, or move to the Class/Workshop format. We hope that we see more Angels coming to work with our small student class as well as taking advantage of the workshop. We all can improve our dancing skills, and hope that you agree with the Board's decision and well as coming to support the class and workshop.
SANDPIPER'S COUNTRY & WESTERN AND CAKE WALK DANCE
On a balmy evening in Solana Beach, the Sandpipers held their annual Country & Western and Cake Walk Dance. Rey and Sherry Garza did the rounds and Romney Tannehill called the squares. Doris and Karion Fitzpatrick provided the welcoming hugs to over six squares of dancers.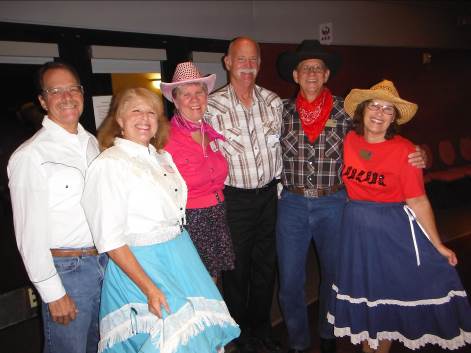 The air conditioning in the hall provided some relief from the heat. Thanks to Nancy Anderson for running to the store at the last minute for more refreshments. The cake walk itself was a huge success with almost 40 cake walkers. Placards of the four suits were placed on the floor and the cake walkers lined up behind a Club, Diamond, Spade or Heart placard. If the caller selected a card out of the deck that matched the placard you were behind, then you were knocked out of the game.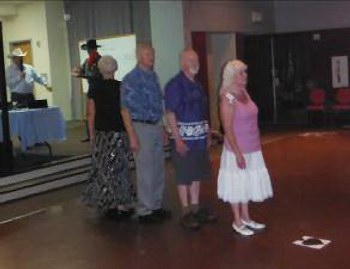 It came down to Sandpipers Barbara Fouts and Tracy Johnson with Tracy finally winning the prize: a wonderful Tuxedo Cake.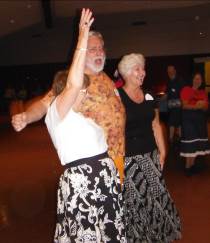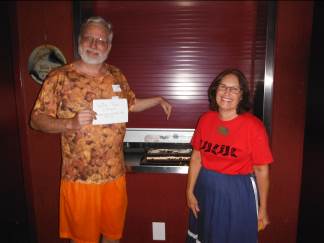 Romney and Rey put on a fine show and everyone had a great time.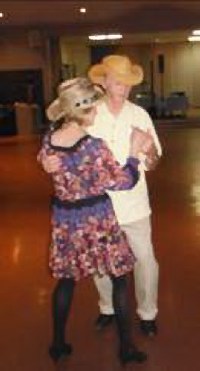 SANDPIPER OCTOBER 2015 BOARD MEETING
The October 2015 Board Meeting will be held on Monday, October 12, 2015 at 7 PM at the home of Pete Ziegler, 3482 Sitio Borde, Carlsbad, CA 92009. Please RSVP to Pete at
pnziegler@prodigy.net
, or to ask for directions. All Sandpipers are encouraged to attend the Board Meetings. Please note that this is Terry Thompson's birthday.
VISITATIONS
October 9th - Whirlaway's 46th Anniversary With Mike Sikorsky Calling and Rey Garza Cueing.
The location is the Barn @ 1950 Sycamore Dr. San Marcos. Rounds start at 7PM and Squares at 8PM.
CLUB DANCES
October 10th - Roaring 20's and Pie Night With Cliff Simpson Calling and Rey Garza Cueing.
The location is St. James.
November 14th - Thanksgiving Theme With David Mee Calling and Dawn Mee Cueing.
The location is the Harding Rec Center 3096 Harding St. Carlsbad.
December 12th - Christmas Cookies With Rod Shuping Calling and Rey Garza Cueing.
The location is St. James.
SANDPIPER ASIAN POTLUCK AT THE LEVIN'S
By Jim Levin
On Wednesday, September 16, 2015 nine Sandpipers attended the Asian potluck hosted by the Levin's in Encinitas. We indulged in sushi, lemon chicken, pad Thai, and Asian salad. Then we laughed our way through square dance fortune cookies and fresh fruit. Gilbert and Dot Omens brought some square dance fortune cookies. One said: "You can be light a footed dancer, but stepping on toes isn't the answer." Another was: "Ends fold, centers fold, too; your partner had better know what to do." Mark your calendar for our next potluck, Thursday October 15, 2015 at 6:30 PM for Octoberfest at Christine Kiffmann's house. Don't forget to RSVP.
Cdkusa@aol.com
.
SANDPIPERS VISIT THE GRAPE STOMPERS IN TEMECULA
Sandpipers had fun at the Grape Stompers dance on September 19, 2015. Cliff Simpson called a great dance and kept everyone hopping with a "hot hash" tip at the end.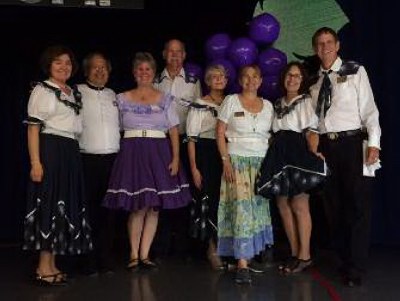 Sandpipers Planner October 2015

Sunday

Monday

Tuesday

Wednesday

Thursday

Friday

Saturday

1

2

3

Game Nite @ the Dorney's

7 PM






Janet Judge

4

5

6

7

8

9

10




Bob Dorney






Square Dance Class La Colonia 7 to 9 PM












Don & Ann Lee






Visitation

Whirlaways 46 Anniv. Dance, 7 PM rounds, 8 PM squares, The Barn






Sandpipers Roaring 20's Night, St James, Simpson/Garza 6:45 PM




Marilyn Stalker

11

12

13

14

15

16

17




Sandpiper

Board Mtg @ Pete Ziegler's, 7 PM

Terry Thompson

Square Dance Class La Colonia 7 to 9 PM







Sandpiper's

Octoberfest potluck@ Christine Kiffmann's, 6:30 PM















18

19

20

21

22

23

24






Square Dance Class La Colonia 7 to 9 PM





Marlyn Milberger

Joy Bainbridge

25

26

27

28

29

30

31

Barbara & Bob Fouts





Square Dance Class La Colonia 7 to 9 PM







Sandy Levin

Stan Milberger







Carol Robbins





Sandpipers Planner November 2015

Sunday

Monday

Tuesday

Wednesday

Thursday

Friday

Saturday

1

2

3

4

5

6

7

Mike Harris

Joy & Bruce Bainbridge

Square Dance Class La Colonia 7 to 9 PM









Doris & Karion Fitzpatrick

8

9

10

11

12

13

14





Pete Ziegler





Square Dance Class La Colonia 7 to 9 PM




Larry Anderson














Sandpipers

Thanksgiving Theme, Harding Rec Center, Carlsbad, Mee/Mee 6:45 PM





15

6

17

18

19

20

21




Square Dance Class La Colonia 7 to 9 PM






Gilbert Omens






Ann Lee






Nancy & Larry Anderson






Barbara Fouts




22

23

24

25

26

27

28

Fred Jackson






Square Dance Class La Colonia 7 to 9 PM




Leonard Seagle

29

30