Sandpipers Parade


September 2015

Country & Western Dance
6:45 PM
Saturday
September 12, 2015
St James Parish Hall
Solana Beach, CA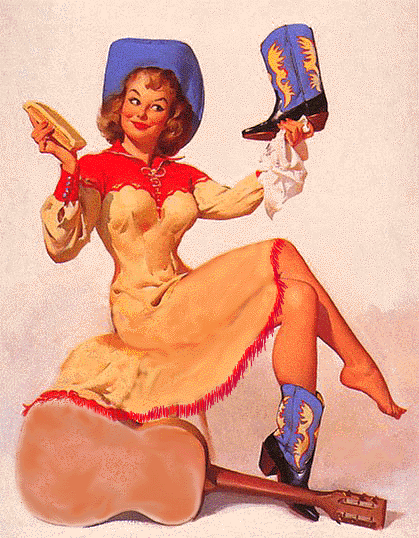 Romney Tannehill Calling
&
Rey Garza Cueing

PRESIDENTS' MESSAGE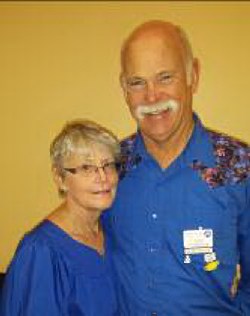 Hello Sandpipers, this is an exciting time for us as we have our new class starting Tuesday, September 8, 2015 at 7 PM. The class location is: La Colonia Community Center 715 Valley Ave. Solana Beach, CA.
This is a great time to go out and spread the word about our class! There are and will be some advertisement that you can point out in the newspapers and "The Reader." There is also class information on our website:
http://www.sandpiperssquaredanceclub.org/
The Sandpiper's New Year's Eve Dance 2015 will be on Thursday, December 31, 2015. Our tickets are on sale now!! The price is $25.00pp. You can send your check and request to Sandpipers C/O 12202 Colony Dr. Poway, CA 92064-2866. The flier and sign-up form will be on our website shortly. Please make your checks out to: Sandpipers Square Dance Club - NYE2015.
In other news, Holley Kinnear will be taking over the CO-2VP position until our upcoming elections. She, Jim and Sandy Levin will be the leads for the September 2015 Square Dance Class. Thank You Holley!
SANDPIPER HAWAIIAN NIGHT DANCE
Caller Michael Kellogg tried a round dance with one of two foreign exchange students Chuck and Joan Ades brought to our August dance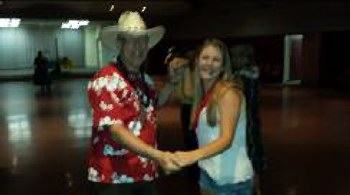 A good group of Ocean Wavers turned out at our August dance to "reclaim" an historic banner that President Terry Thompson offered them after finding it in our club archives.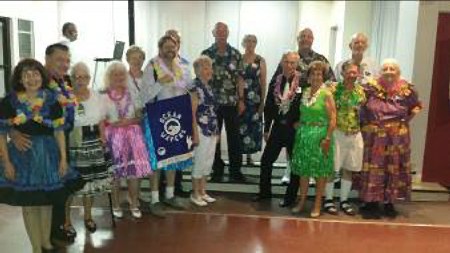 The Sandpipers are going to display scrapbooks going back to the beginnings of our club and allow interested people to take photos etc. at our next couple of dances.
CLUB FINANCES
By Catherine Bowen
RAISING DANCE DONATION FOR GUESTS - At our September, 2015 dance our entrance donation for guests will be $8. We will be joining the Wranglers and Ocean Wavers as they, too, find it necessary to increase the door donation. Whirlaways, Double SD's and PSDA dances have been $8 at their regular dances for quite some time already.
LOOKING AT CLUB FINANCES - At the last Board Meeting our income vs. expenses and membership numbers were discussed. We have charged our members $60/year since 2001 which covered entrance to dances, attending class, insurance, PSDA dues and many other fixed expenses. Our recent membership, between November 2011 and November 2014, has gone from 86 members to 65 members for a loss of 21 members. This includes members who have not renewed their membership and new members who graduated and have joined the Sandpipers. Our bank balance has been reduced by approximately $3000 during that same time period. As our expenses keep going up and membership and attendance at dances keep going down, the Budget Committee will look first at reducing any expenses that we can as well as working on ways to increase our income. The Budget Committee will meet prior to the Board Meeting in October. All members will receive a letter that explains the proposed budget for 2016 with any changes that the Board believes need to be made to keep the Sandpipers solvent. The Board thanks you for your continued support of the Sandpipers Square Dance Club. Every square dance club is dealing with the same issues of wanting to keep our events affordable for our members and dancing friends and being challenged by expenses continuing to rise as our square dancing family is getting smaller.
VISITATIONS
By Terry Thompson
September 5th Padres Square Dance day - we have some Sandpipers scheduled to attend.
September 19th The Grape Stompers - with Cliff Simpson calling and Radka Sandeman cueing.
The location is the Temecula Community Center 30875 Rancho Vista Rd., Temecula, CA 92592
DANCES
By Terry Thompson
October 10th Roaring Twenty's - with Cliff Simpson calling and Rey Garza cueing.
The location is at: St. James Parish Hall.
November 14th Thanksgiving - with David Mee calling and Dawn Mee cueing.
The location is at: The Harding Center (Recreation Hall) 3096 Harding St.
Carlsbad, CA 92008
December 12th Holiday Cookies - with Rod Shuping calling and Rey Garza cueing.
The location is: St. James Parish Hall. There will be a short Club General Meeting
Before the dance start.
December 31st Sandpiper's New Year's Eve - with Romney Tannehill calling and Regina Aubrey
cueing. The location is: St. James Parish Hall. Tickets are pre-sale only.
LARRY AND NANCY ANDERSON VISIT WITH FORMER CALLER MIKE WOOD
Larry and Nancy Anderson were delighted when they ran into former caller Mike Wood at the Ocean Wavers' dance August 7. Mike, who retired from calling about 15 years ago, was the instructor for the Sandpipers when the Andersons first learned to dance in 1991-92. Great memories. Class managers for that class were Stan and Miriam Snitkin and Dolores and John Costa. Both couples went on to serve as club Presidents, and fellow class members, who started with the Andersons, were Brian and Ellen O'Connor, who also went on to serve as club Presidents.
SANDPIPER AUGUST 2015 POTLUCK AT THE THOMPSON'S
By Christine Kiffmann
The August potluck was enjoyed by 11 Sandpipers in the charming residence of Joan and Terry Thompson in Poway, where tables were set with flickering lite candles. Although the theme was salads, one member also brought a delicious chicken casserole dish made with a very tasty pineapple sauce. Creativity was at its peak with the variety of salads that were available. Kudos to Sandy Levin for making gluten free brownies that were so good, she took home only an empty plate. I have to admit that I was so content and relaxed at being at a potluck, instead of hosting one, that taking a photo for the newsletter was the last thing on my mind. My apologies to Joan and Terry.
The September potluck will be on WEDNESDAY, September 16th, 6:30 PM, at the home of Sandy and Jim Levin in Encinitas. You'll be surprised to find, probably the most conducive setting yet,for potlucks, at their residence at 1534 Avenida Las Lilias, Encinitas, 92024. Start thinking now about which delicious ASIAN dish you would like to bring.
AUGUST 2015 GAME NIGHT
By Karen and Bob Dorney
Canasta players included Anndee and Tim Travers, Carol Burks, Renny and John Dowling, Adrienne Cooper, Holley Kinnear, Joan and Chuck Ades, and Karen and Bob Dorney. Partners John and Adrienne won at table one.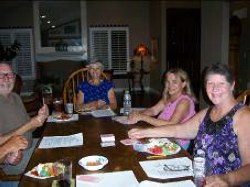 Partners Chuck and Carol won at table two.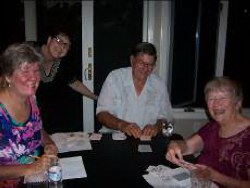 The next game night is Thursday, October 1.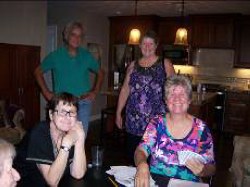 PSDA Report July 12, and August 9 2015 Meetings:
By PSDA Rep Peter Ziegler
Other Clubs:
Ocean Wavers: may be changing their dance location due to the doubling of the rental rate.
Promenaders: have installed a new wood floor at their dance location.
Wranglers: increased the cost of their dances to eight dollars. Their workshops continue every other Sunday during the Summer. The Poway Days Parade on September 12 will include square dancers who will square dance during stops of the parade. All clubs are invited to participate. Contact Wranglers Board members for details. Their 2017 dance schedule will move to the fourth Saturday of the month.
Taste of Dance: This showcase to promote/demonstrate Square, Round, Line and Clogging dance is being held on August 20th and 27th in Poway and is being coordinated with the Wranglers. Other demonstrations in other parts of the county are being planned. This first event will be advertised in the Poway News Chieftain.
PSDA Dances: For their 5th Saturday dance in October dance it is requested that scary Halloween costumes not be worn and other theme costumes be utilized such as characters from movies.
Del Mar Fair: 179 dancers participated in the square dance demonstrations this year.
State Council Membership Dues: An increase of $2.00 per member was approved by the Board. An increase was requested due to increased costs and low turnout at State Conventions. This increase still has to be approved by other affiliates before it is finalized.
PSDA Rule Change: A proposal by PSDA to restrict club dances during the same weekend as their dances was not approved.
1st VICE-PRESIDENTS ANN AND DON LEE
Dance etiquette continued: What to do if your square breaks down.
If your square breaks down during the patter call, form two lines of four dancers in the side position. It's ok if you are not with your original partner. The point is to make two side position lines of four dancers facing each other, ASAP. Wait until you hear the caller say "Lines up to the middle and back." This is your cue to rejoin the dance. Avoid the temptation to perform any other call from the line position because you will not end up in the correct position to perform the subsequent call, resulting in your square breaking down again
If you break down during the singing call, go home. Notice the other squares returning to home position. Resume dancing with the next call.
Etiquette helps keep the dance running smoothly, and ensures a pleasant experience for everyone. The following applies to seasoned dancers, not our recent graduates.
When the caller calls "Promenade", it means EVERYONE in the square is supposed to promenade. Remaining standing there while the rest of the square promenades, is not an option. It creates a problem when the other couples in your square jam up behind you and can't get to their finish position in time. Sometimes, half way through a promenade, the caller may call "Sides, wheel around and face the Heads". If you aren't promenading, there is no way that you can possibly be in the correct position to perform the call, resulting in the square breaking down.
If you are not able to promenade, or you are not able to perform any other calls proficiently, or you move too slowly to keep up with the caller, you should not be dancing in a square. We have a responsibility to be fair and considerate of all the dancers in our square. Etiquette requires that we be proficient in executing calls within the time allotted and that we keep up with the caller so that we don't ruin the dance for all the other dancers involved in our square.
Sandpipers Planner September 2015

Sunday

Monday

Tuesday

Wednesday

Thursday

Friday

Saturday

1

2

3

4

5






Penny Davis

Visitation

Padres Square Dance Day

Andy Allemao





6

7

8

9

10

11

12





New Square Dance Class La Colonia 7 to 9 PM














Betsy & George Bramblett

Holley Kinnear

Sandpiper Country & Western Dance, St James, 6:45 PM Tannehill/Garza





13

14

15

16

17

18

19

PSDA Student Level Dance DARK







Beginning Square Dance Class La Colonia 7 to 9 PM

















Visitation

Grape Stompers

Temecula Comm Rec Ctr 6:30 PM

Karion Fitzpatrick

Carol Burks

20

21

22

23

24

25

26






Beginning Square Dance Class La Colonia 7 to 9 PM

27

28

29

30

Beginning Square Dance Class La Colonia 7 to 9 PM











Sandpipers Planner October 2015

Sunday

Monday

Tuesday

Wednesday

Thursday

Friday

Saturday

1

2

3

Game Nite @ the Dorney's






Janet Judge

4

5

6

7

8

9

10




Bob Dorney






Square Dance Class La Colonia 7 to 9 PM











Don & Ann Lee










Sandpipers Roaring 20's Night, St James, Simpson/Garza 6:45 PM




Marilyn Stalker

11

12

13

14

15

16

17




Terry Thompson




Square Dance Class La Colonia 7 to 9 PM


















18

19

20

21

22

23

24






Square Dance Class La Colonia 7 to 9 PM





Marlyn Milberger

Joy Bainbridge

25

26

27

28

29

30

31

Barbara & Bob Fouts





Square Dance Class La Colonia 7 to 9 PM






Sandy Levin

Stan Milberger







Carol Robbins